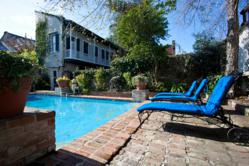 New Orleans, Louisiana (PRWEB) July 03, 2013
The Audubon Cottages, part of the New Orleans Hotel Collection, has been featured in the July 2013 issue of Travel + Leisure Magazine, the travel magazine with the largest subscriber base, and one of the 100 top subscriber magazines in the world.
The issue features a special Travel and Leisure offer, presented for the new luxurious Audubon Cottage Suites as an exclusive package that reflects the culinary heritage of the city of New Orleans for the magazine's culinary theme.
The "Gourmet Delight Culinary Adventure Package" offers Travel & Leisure readers a three-night stay in a luxurious two-bedroom, two-bath patio cottage for up to four guests, a dining certificate good for $150 valid at the trendy new Kingfish or the venerable Royal Oyster House, both located just a few short blocks from the Cottages. Also included is champagne on arrival, a delightful jazz brunch at the famous Court of Two Sisters restaurant, welcome drinks at Patrick's Bar Vin, recently named one of the ten best wine bars in the country by Fox News, and coffee and beignets at Café du Monde. Complimentary inclusions such as Wi-Fi access, daily breakfast, in-room coffee and bottled water, newspapers, butler service and local phone calls add to the value. The package is available to book online on the Travel + Leisure website through September 30, 2012: http://www.travelandleisure.com/vacation-deals/new-orleans-34-off-creole-culinary-adventure.
Guests choosing this or other packages are offered an exclusive discount off limousine transport, available at: http://www.myairporttrip.com/nohc.
This package is timed perfectly for a new event August 1-4: The inaugural Farm To Table International Symposium (F2Ti) will feature the brightest thought leaders and leading practitioners in the burgeoning farm-to-table movement. F2Ti explores the cultivation, distribution, and consumption of food and drink sourced locally to globally. Topics include farming and aquaculture, fisheries, sustainability, social and digital interactive media, food security and safety, food law and policy, food science and GMO, artisanal and slow food and drink, and fair trade. For more information, please visit: http://f2t-int.com/.
About the Audubon Cottages of the New Orleans Hotel Collection
Deep within the boundaries of the historic French Quarter on quiet Dauphine Street, lies a treasure, a unique enclave of seven cottages accessed through a private gate beyond a row of ancient crepe myrtles and through semi-tropical landscaped courtyards. These traditional French Creole Cottages, named for naturalist John James Audubon who once resided here, are barely a block from the excitement of Bourbon Street, but guests of the exclusive retreat would swear they are a world away. The deceptively central location puts guests within a five minute stroll of the famous eateries of the Quarter: Antoine's, Arnaud's, Broussard's, Acme Oyster House, Court of Two Sisters, Stella! and many more. A few blocks further, and visitors delight in the Steamboat Wharf, the Mississippi Riverfront, Jackson Square, the French Market, Café du Monde and other haunts frequented by writers and famous personalities over the years.
With privacy befitting the movie stars and politicos who frequent this unique French Quarter lodging, there are also personalized services reflecting the comforts expected: private deluxe continental breakfast service, specialized "French Quarter Butler" service, daily maid service with nightly turndown, lush terrycloth robes and towels, beautiful antiques, coupled with modern iPod docking stations, cube refrigerators and free wireless internet. With individual private patios surrounding a lush courtyard and large private saltwater pool, the Audubon Cottages offer a specialized, exclusive opportunity to enjoy the French Quarter in a fashion reminiscent of "Lifestyles of the Rich and Famous!"
About the New Orleans Hotel Collection
The New Orleans Hotel Collection is a group of seven splendidly original hotels in the New Orleans metropolitan region owned by local investors. Comprised of the Bourbon Orleans, Dauphine Orleans, Hotel Le Marais, Wyndham Riverfront, Audubon Cottages, Crowne Plaza New Orleans Airport and the new Hotel Mazarin, these boutique and small upscale meeting hotels are in prime locations throughout the city. For more information, visit http://www.neworleanshotelcollection.com.