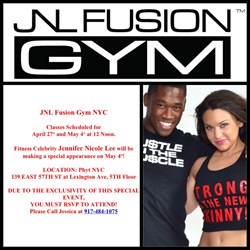 New York City, New York (PRWEB) July 02, 2013
The JNL Fusion Gym NYC is a reality. The rumors and whispers floating around have been confirmed by the announcement of the First Ever JNL Fusion Gym NYC Classes and the release of a full blown class schedule. They've moved from the planning phase into action mode. Full steam ahead.
Fusion Gym Owner, Jessica Botte is collaborating with Master Trainer and Gym Owner Jonas Serrano of Phyt NYC to make this happen. Phyt NYC is Manhattan-based personal training company catering to busy urban professionals, which couldn't be a more perfect fit for JNL Fusion. They offer a slew of training methods from strength and conditioning to boxing, BJJ, MMA and Muay Thai. Now, they've welcomed Jessica Botte with the JNL Fusion Gym.
The first ever Fusion NYC class was held April 27th with Master Trainer Jessica Botte as a warm up for the Grand Opening Kickoff on May 4th taught by Jennifer Nicole Lee and Jessica. Both classes were at 12:00 Noon.
JNL has always put her fusion family at the forefront of the training method. She's ecstatic to meet her newest followers in New York City. Jessica has fervently passed along her mentor's message stating, "These Fusion Gym Classes are not your typical boot camps where you sweat for an hour and go on your way. We care about every person that walks in this door. I'm determined to change lives and make more fusion success stories here in New York to add to the growing list throughout the nation and world."
Now Jessica Botte is cross promoting with "Workout Mingle" which is for singles that love to train but don't necessarily love the bar scene or other generic places to meet people.
WOM creator, Brian Pedone has been boxing since he was 13 years old and has been coaching fighters and people in the sport his entire professional career. During his training in New York City he noticed a trend in singles looking for more constructive ways to meet people. In his current classes he observed his clients interact and thought it would be a great idea to remove the "is he/she single?"
"With the mingle centered around a group fitness class, there is much less pressure to actually make a match happen, but rather just have a good time. If something happens great, if not at least you had a good workout," says founder Brian Pedone.
Brian has collaborated with some top names in the NYC fitness scene including JNL Gym Owner Jess Botte, Fitness Fight Camp's Ben Hernandez and Harly Almonte of Box and Lift. Members of Workout Mingle will be experience several types of training from extraordinary trainers.
The first Workout Mingle will be a Boxing For All class held on Sunday July 21 from 11am - 12pm at Complete Body and Spa at 22W 19 Street New York, NY 1001
Learn more and register at http://www.WorkoutMingle.com