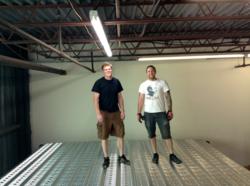 In a company whose name starts with "Rush Order", clearly fulfillment speed is a highly viewed KPI"
Philadelphia, PA (PRWEB) July 03, 2013
As business continues to increase for Rush Order Tees, the company has once again found the need to expand their current facilities to help expedite the daily flow of orders. Over the course of twelve years, the company has expanded to become a top supplier of customized t-shirts, uniforms, and apparel in the US and international markets. With demand of their product line growing, Rush Order Tees continues to find new innovative methods of expanding production and increasing their efficiency.
Currently, the company is in the process of a construction project on a new expanded fulfillment center. The new space will support faster organizing and processing of customer orders.
"This new facility will definitely provide our team with the ability to work in a more efficient manner. In a company whose name starts with "Rush Order", clearly fulfillment speed is a highly viewed KPI [Key Performance Indicator]" explained Matthew Price, GM of Production & Operations.
The project began in May and will be done in Late-July. Along with a physical expansion, Rush Order Tees is constantly expanding and seeking new, experienced talent at all levels of industry knowledge. Price and his team feel the new space will help meet the ongoing goals of the company.
This latest construction project isn't the only renovation for the custom t-shirt maker. Recently they renovated space for the growing department of t-shirt designers and are currently renovating an additional space to increase production bandwidth.
About Rush Order Tees
Rush Order Tees has been a family-run business since 2001. Since then, they have grown to be one of the top suppliers for customize apparel in the US and Canada. The company client-base includes small charity groups along with major corporate companies such as, Amazon and Google.
To learn more about Rush Order Tees visit http://www.RushOrderTees.com/