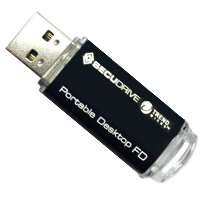 San Jose, CA (PRWEB) July 02, 2013
Brainzsquare announced the release of SECUDRIVE Portable Desktop for Dropbox, a new cloud security solution for Dropbox, into the market.
Dropbox has grown to become one of the most popular cloud file sharing services. Many organizations and individuals are using the service because they can work with the latest updated files and easily share them with remote coworkers no matter where they are located. On the other hand, a lot of people have been worried that unauthorized transferring, storing, and sharing of corporate confidential information could happen outside of their supervision, even though Dropbox provides some options to enhance the level of security for its users.
SECUDRIVE Portable Desktop for Dropbox allows administrators to manage file encryption and user file access capabilities off of Dropbox, while allowing everyone to use the Dropbox service almost as they normally would. The administrator's Dropbox account is used to share files among the users. The administrator can register users and set user rights which can allow specific users to get access to a certain folder on Dropbox. These setting and detailed event logs are manageable by the administrator at any time.
SECUDRIVE Portable Desktop for Dropbox adopts a USB based, two-factor authentication which enables a person who has a pre-registered USB distributed by the administrator, to have access to the folder when the user types in the correct password. There is no need to install Dropbox as a Dropbox storage sync program comes preinstalled on the USB drive. Administrators can set up security policies such as shared folder information, import and export rights, printing rights, and more. A detailed user work log and the file backup function can be used for auditing purposes.
Users can easily use this solution because it's almost like using Dropbox regularly, except now users just plug in their designated USB drives and type in the correct password. The USB is a hardware encrypted secure USB drive, preventing information leakage even when lost or stolen. Users' work is done on the virtual drive which is separated from the local PC storage, leaving no trace of sensitive data on public computers. All files can be automatically encrypted in the USB and transferred to the Dropbox storage.
"This product could dramatically enhance the level of security of the Dropbox cloud storage while keeping the simple and efficient use of the Dropbox service. If you want to share important and confidential data easily and safely via Dropbox, this could be one of the best alternatives. We are currently preparing SECUDRIVE Portable Desktop for other cloud services," said Simon Kang, CEO of Brainzsquare.
About Brainzsquare:
Founded in 2000, Brainzsquare has been serving specialized and innovative data security solutions in the market. In 2006, with the launch of the SECUDRIVE product line, Brainzsquare provides products ranging from secure USB flash drives and data erasure products to copy protection software, device control, and file server security for corporate customers and content publishers.
If you have any questions or inquiries about this article or its contents, please contact us.
Judy Yun
Marketing Associate, Brainzsquare
3003 N. 1st St. Suite 313
San Jose, CA 95134
Tel: 1-800-464-9803
PR(at)secudrives(dot)com