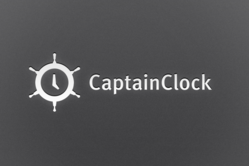 Salt Lake City, UT (PRWEB) July 03, 2013
Captain Clock launched its new time tracking app and software this year to help a staggering number of small businesses that are still supporting the Dunder Mifflin's of the world. In a climate where cloud technology, bring your own device and "work anywhere" have become the norm, many small businesses still cling to manual, paper-based processes.
To date, the Microsoft Office template library contains over 20 unique templates of printable employee timesheet forms. And, even as late as October 2012, we see sophisticated institutions like UC Berkley finally announcing its move to an automated timekeeping system. Web-based time tracking solutions like Captain Clock simplify employee management, allowing employees to log time accurately from anywhere via laptop, desktop or mobile device. Time-restricted business owners and managers can set up employee schedules and export payroll reports in mere seconds.
"Captain Clock makes things easier. Each time they login in, employers land on a simple dashboard that gives them a snapshot of employee productivity. In an instant, they can know how many hours have been worked vs. scheduled, who's been late recently, and if there are any pending time-off requests to deal with," explained Andrew Miller, social media manager for Captain Clock.
There continue to be roadblocks to technology adoption, including price, user appeal and ease-of-use, but the increasingly rapid adoption of web marketing technologies by businesses of all sizes shows that adoption rates are slimming up.
"We live in a web-based world, and in one form or another nearly all businesses have adopted mobile and cloud-related technology. It's gotten to the point where employees are tweeting in commute for their employer—it only makes sense that they should log their hours from the same device," says Miller.
With Captain Clock, employers can save wasted time on manual processes and avoid inaccuracies that both add up to a lot of costs for a growing business. Paper time sheets aren't yet the relic we believe them to be, but in a world of lightning fast and affordable software it won't be long till they've seen their last day.
For more information, please contact Andrew Miller, andy(at)captainclock(dot)com, 801-896-3573, http://www.captainclock.com.
About Captain Clock
Captain Clock is the "easiest time tracking software on the planet," allowing employers to manage employee time accurately from anywhere. There is no training or learning curve. Employers can set up new employee schedules and print up reports for payroll in seconds. And employees can log time from anywhere via desktop, laptop or mobile device.