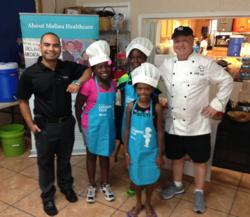 "Molina Healthcare is excited to be presenting the Short Chef classes to the youth of Branches," said Leo Segura of Molina Healthcare. "Our aim is to expose kids to different and healthy ways of eating."
Miami, Florida (PRWEB) July 10, 2013
During the Branches Summer Shade camp, Branches (formerly South Florida Urban Ministries) is teaming up with Molina Healthcare to bring a fun and healthy cooking class to dozens of at-risk children and youth in North Miami Beach. The "Dr. Cleo's Cooking Club", organized and sponsored by Molina Healthcare, will teach the students at Branches Fulford about healthy eating, healthy cooking and healthy habits.
The class runs for six weeks, taught by Short Chef, Mr. Ray Newlands, beginning on June 17th and culminating with a graduation dinner cooked and served to the parents of the students on the night of July 22nd. The children will receive a certificate of completion, an apron and a chef's hat, and will also be joined by Dr. Cleo, Molina's cat doctor mascot.
Over 30 kids, ages 6 to 12, will join Short Chef, a life-long culinary expert, teacher and professional caterer, who has dedicated many years to educating kids about proper nutrition, to explore the kitchen. The children participating in the cooking classes are part of the Branches year-round Grow and Climb children and youth programs, which include after-school enrichment programs, tutoring, mentoring, development classes, physical fitness, field trips, camp experiences and much more.
During the first cooking class, the kids learned how to make a fun, easy and healthy salad and special dressing, in a sandbox! It was empty of course but big enough to hold enough salad for the whole class. They learned about the difference between fruits and vegetables, the 5 food groups, even proper hand washing and much more. They will continue on to make spaghetti tacos, smoothies, healthy snacks and learn how to cook Arroz con Pollo, A Cuban chicken and rice dish, for graduation night.
Branches' goal is that the parents of the students learn about the Dr. Cleo's Cooking Club and make some changes and make some better choices for the home. When the class is over, the kids will take home a binder full of recipes and some instruction on living healthy and eating right. More than one third of all children and adolescents are overweight or obese. In the last 30 years, childhood obesity tripled. Childhood obesity is also more likely to lead to high blood pressure, high cholesterol, diabetes and heart disease, according to the Centers for Disease Control and Prevention.
WHEN: Every Monday from 3:00p.m-5:00p.m. from June 17th to July 22nd, 2013
WHERE: Branches Fulford, 1900 NE 164th St, North Miami Beach FL 33162
For further details, please contact Isabelle Pike at 305-442-8306 x1002 or ipike(at)branchesfl(dot)org. To make a gift to Branches, please visit http://www.branchesfl.org and click on DONATE.
________________________________________________________________
About Branches
For 40 years, Branches (formerly South Florida Urban Ministries) has made a positive impact in the community by delivering on its mission to serve, educate and inspire people through student, family and financial stability services. Branches provides long-term, holistic services for motivated individuals and families. We help people grow deeper and climb higher in life by building a foundation through education so they can achieve their goals and fulfill their potential.
About Molina Healthcare
Molina Healthcare, Inc., a FORTUNE 500 company, provides quality and cost-effective Medicaid-related solutions to meet the health care needs of low-income families and individuals and to assist state agencies in their administration of the Medicaid program. The Company's licensed health plans in California, Florida, Michigan, New Mexico, Ohio, Texas, Utah, Washington and Wisconsin currently serve approximately 1.8 million members, and its subsidiary, Molina Medicaid Solutions, provides business processing and information technology administrative services to Medicaid agencies in Idaho, Louisiana, Maine, New Jersey, and West Virginia, and drug rebate administration services in Florida. More information about Molina Healthcare is available at http://www.molinahealthcare.com.