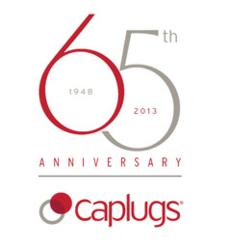 (PRWEB) July 09, 2013
Caplugs, a leading manufacturer of premium protection products, recently released its 65th anniversary logo, which was designed to commemorate the company milestone. Although the logo won't replace the brand's traditional logo in external use, it will be used internally in company merchandise and communications as a symbolization of all that Caplugs' team has collectively accomplished.
"The 65th anniversary logo was created to celebrate the company, but also to celebrate all of the people behind the company who have made it what it is today," says Melody Napierala, Caplugs' Director of Marketing Communications.
Among those successes is Caplugs' acquisition of Shercon in May 2012. The two companies merged to offer a one-source solution for all product protection and masking needs. Prior to that acquisition, Caplugs had also purchased Niagara Caps & Plugs in 2003 and an injection molding operation in the Pudong District of Shanghai, China, in 2008. As a result of all three mergers, Caplugs now boasts one of the largest, most comprehensive lines of protective products with global reach.
However, it's the people acquired over time – not just the companies – who Caplugs attributes to its success. "We don't just buy the product line and get rid of the people," Napierala says. "We make them part of our team and gain valuable insight from their expertise and fresh perspective."
In addition to gaining insight from new employees, Caplugs also draws from the expertise of its long-term employees, such as Linda Modglin, whose career at Caplugs first began more than 35 years ago in the sample room. Since then, she worked her way up to customer service in the automotive department, where she handled big-name accounts such as General Motors and Chevy, before landing in her current position as a coordinator in the marketing department.
"Caplugs has always encouraged people to advance within the company and grow," Modglin says. The company itself has also experienced tremendous growth in the past 65 years. Its product catalog that was once just 10 to 20 pages is now 144 pages. Caplugs has also expanded its office locations from its headquarters in Buffalo, N.Y., to additional locations in Erie, Pa.; Los Angeles, Calif.; and Shanghai, China.
It's not just the employees who are excited about Caplugs' longevity and growth, says Modglin. It's the surrounding community, too. "Caplugs has been a stable company for this city," says Modglin, who works at headquarters in Buffalo. "With the leadership we have now, I think we'll continue to be successful both here and abroad. We have a clear vision for the future."
For more information about Caplugs, please call 1-888-CAPLUGS.
About Caplugs
Caplugs is a global manufacturer of plastic protective closures and masking devices used by more than 25,000 customers in a variety of industries, including medical, energy, automotive, aviation, hydraulics, masking, electronics, industrial machinery and packaging. Four-hundred million parts are in-stock and ready to ship. For more information, to place orders online or request free samples, visit http://www.caplugs.com.