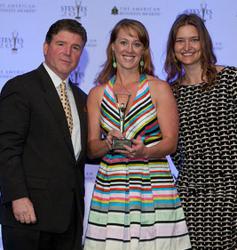 Emma Fuller, V.P. Manufacturing reflects, "We are honored to have won these awards, particularly considering the worthy competition this year. I am proud of our employees for their dedication to our customers and for their above and beyond performance."
Livingston, MT (PRWEB) July 03, 2013
PrintingForLess.com (PFL) accepted the Gold Award for Company of the Year in Manufacturing at the 2013 Stevie American Business Awards® in Chicago.
PFL is a growing company nestled in the hills of Livingston, Montana with customers spanning the globe. Employing over 150 people, this print manufacturing company has a vision to "raise the performance of American business, by setting the standard for delivering truly great customer experiences." PFL practices lean principles that support the company's drive to be green and to provide outstanding customer support on a daily basis.
Emma Fuller, V.P. of Manufacturing reflects, "We are honored to have won these awards, particularly considering the worthy competition this year. I am proud of our employees for their dedication to our customers and for their above and beyond performance."
PFL culture is reflective of the company core value system which includes "high performance, disciplined execution, and continuous improvement." Every member of the PFL team takes full responsibility for the customer's experience, from the first point of contact to the delivery of printed materials. This innovative team approach is what led judges to award PFL with not only a gold, but with three silvers and a bronze as well.
The awards were presented to honorees during a gala banquet on Monday, June 17th in Chicago, IL. More than 3,200 entries were submitted to The 2013 American Business Awards and 320 executives nationwide participated in judging to determine this year's Gold, Silver and Bronze Stevie Award winners.
Details about the Stevie American Business Awards and the list of Stevie winners in all categories are available at http://www.stevieawards.com/pubs/awards/403_2183_22394.cfm.
About PrintingForLess.com
PrintingForLess.com (PFL) is the nation's first e-commerce commercial printer with over 100,000 customers nationwide and steadily growing. An industry leader in high quality commercial printing, they focus on delivering remarkable customer experiences. As the Wall Street Journal has noted, PFL succeeds in striking the best balance between human and online interaction with customers. At PFL, it's right, it's on time, or it's free.