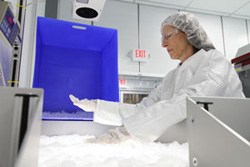 (PRWEB) July 23, 2013
Caplugs, a leading manufacturer of premium protection products, added a new ISO Class 8 certified cleanroom to its headquarters in Buffalo, N.Y. The cleanroom is ISO 9001 certified and received an ISO 13485 recommendation.
Within the confines of the cleanroom, parts are produced, inspected and packaged to ensure cleanliness and quality. Primarily used to produce protective products for the medical industry, the room is fully equipped with molding capabilities, an inspection table with ionization blowers, and a packaging unit.
Some of the products Caplugs produces for the medical industry include instrument guards, medical packaging and caps/plugs used to protect devices from contamination and damage during shipment and storage.
Caplugs carries nearly 400 million parts in-stock and ready to ship. If a part isn't readily available that meets a client's specifications and requirements, Caplugs' engineers are able to design and develop a custom part. Caplugs' engineers often work one-on-one with clients to design a concept, develop a prototype for testing, and then deliver a final product quickly and efficiently.
Caplugs has been serving the medical market for more than 65 years and has more than 1,300 medical customers today.
For more information, to place orders online or request free samples, visit Caplugs' website.
About Caplugs
Caplugs is a global manufacturer of plastic protective closures and masking devices used by more than 25,000 customers in a variety of industries, including medical, energy, automotive, aviation, hydraulics, masking, electronics, industrial machinery and packaging. Four-hundred million parts are in-stock and ready to ship. For more information, to place orders online or request free samples, visit http://www.caplugs.com.