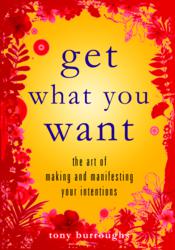 (PRWEB) July 04, 2013
Tony Burroughs recently appeared on On Purpose Radio, which is hosted by Susyn Reeve, author of the Viva Editions Book The Inspired Life. Both Susyn Reeve and Tony Burroughs work to spread their messages of improving life through inspiration and positive thinking. He spoke about the power of intention-setting and gave such gems of wisdom as "Envision only positive outcomes."
Tony is the author of Get What You Want: The Art of Making and Manifesting Your Intentions, the co-founder of The Intenders of the Highest Good, a grassroots community movement with Intenders Circles in countries all over the world. He is also author of the popular daily message, The Bridge, in addition to being a Master Intender.
Tune in to listen to Tony on these upcoming radio shows:
7/11: Real Life with Lisa Jesswein - 12pm EST
7/13: Exploring Unexplained Phenomena on KZUM Radio - 8:50-10:30am PST
7/15: The Donna Seebo Show - 9am PST
Get What You Want
The Art of Making and Manifesting Your Intentions
By Tony Burroughs
When Tony Burroughs was a young man living in Hawaii, an elder philosopher-sage at a nearby fruit farm took Tony under his wing and became the budding seeker's mentor. Over a period of seventeen years, Tony received a body of deep teachings about the meaning of life, the history of mankind, and how to evolve so as to live a life filled with love, peace and abundance. Soon after leaving the farm, Tony and three friends started a weekly Intention Circle. That first humble gathering had dramatic and life-changing effects, leading Burroughs directly to his mission of guiding others in the art of manifesting the best in themselves and the Highest Good. The tenet of Get What You Want is simple, powerful and profound: "that which you are reaching toward is also reaching out toward you."
The Inspired Life
Unleashing Your Mind's Capacity for Joy
By Susyn Reeve and Joan Breiner
What is an "inspired life"? Can it be cultivated? Does it come naturally for some while being unattainable for others? Some people wake each morning sure of their purpose, but for most, it's not that simple. Through stories, meditations and unique practices in this book, readers will learn exactly how to find and maintain inspiration in their daily lives. Susyn Reeve and Joan Breiner's powerful message is directed to those who need a helpful reminder, a gentle nudge to open our minds and hearts to the vast creative potential alive in each moment.