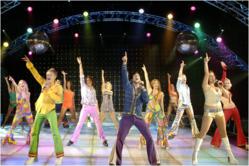 Branson, Missouri (PRWEB) July 04, 2013
Branson Ticket & Travel - The King's Castle Theatre is proud to announce the addition of yet another fabulous production created by our own David King: Dancing Queen: ABBA's Greatest Hits.
Call us at 1-800-432-4202.
You can buy tickets online by clicking here.
Touring since 2009 in places such as Monaco, Las Vegas, Reno & Niagara, Dancing Queen is now proud to call Branson its home. ABBA fans won't want to miss "Dancing Queen" at the King's Castle Theatre. This show pays tribute to the group in a show-stopping musical extravaganza featuring singers and dancers performing those groovy 70's tunes. Our cast will outshine even the best songs from the 70's in this slick sparkling show. The entire cast knows how to party 70's style, in a psychedelic kaleidoscope of color, they bring classic hits to life from ABBA favorites like "Waterloo" and "The Winner Takes All" as well as other 70's classics such as "YMCA" and "In The Navy," an upbeat medley including "Respect" and "Mustang Sally" and a rip-roaring Motown section featuring, among others, "Dancing in the Streets," "Ain't No Mountain High Enough" and "Shout."
King's Castle Theatre is set to have a hit 2013 lineup including The Twelve Irish Tenors, Hooray for Hollywood, The Official Tribute to the Four Seasons and The Beach Boys, & Dancing Queen will lead the season February-October. Followed by Christmas in Hollywood, The Twelve Irish Tenors Holiday Show and The Official Tribute to the Four Seasons and Beach Boys Christmas show during Ozark Mountain Christmas November – December 2013.