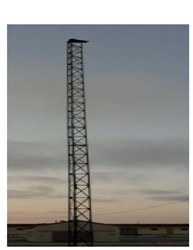 My experience with oversea deployments provided a baseline understanding for the need to reduce the burden on the individual soldier or operator, while offering a simple assembly without tools
Los Angeles, CA (PRWEB) July 04, 2013
Aeros has recently completed and delivered to the customer a new innovative tactical tower system. This platform elevates communications and surveillance utility in a variety of usage scenarios at reduced cost and assembly time, and without the need for supporting assets such as larger vehicles or equipment. The result is a high performance tower solution that advances both mission flexibility and deployment opportunities for varied payloads.
The lightweight portable tower system is manufactured from a hybrid composite truss and designed to address harsh environmental conditions while supporting significant payloads atop a universal payload mounting plate. The tactical tower's folding base plate and quick attachment points facilitate rapid deployment and egress within 20 minutes, by a single operator, without the need for accompanying vehicles or equipment. This permits the system to be used for short-term or sustaining communications and observation applications whether employed by local law enforcement agencies, in homeland security applications, or while supporting deployed troops and embassy personnel.
Aeros tactical tower system is ultra-lightweight and features a minimized ground footprint and up to 100 foot adjustable height to support a variety of missions in high wind scenarios. The tower system's total transport volume is less than 43ft³, weighing only about 1.5 lbs/ft.
"My experience with oversea deployments provided a baseline understanding for the need to reduce the burden on the individual soldier or operator, while offering a simple assembly without tools," explains, Mario Pantuso, Aeros' Sr. Military Product Manager, adding, "We helped develop an enhanced performance solution to this critical challenge by combining our technological insights from another project, thereby advancing a tactically superior and manpower efficient solution that truly offers the user flexibility and confidence."
Interestingly, the structure for the communications or surveillance-enabling tower was conceived during the development of the Aeroscraft, a new advanced rigid structured airship being developed by Aeros' engineers to transport heavy and oversized project cargos directly from manufacturing facilities to remote destinations. Engineers realized the truss system developed to help support cargo payloads and maintain the dirigible-like vehicle's structure was sufficiently lightweight, durable and stable to represent a major advancement in the category of man-portable surveillance systems. The team then quickly leveraged this discovery to support modern missions with modern materials and insight.
Learn more about this new innovation supporting communications and observation applications at http://www.aeroscorp.com, and about the Aeroscraft, the most effective vertical-takeoff-and-landing (VTOL) cargo transport aircraft in the world at http://www.aeroscraft.com. Media interested in interviews should contact media(at)aeroscraft(dot)com, or contacts below.
About Worldwide Aeros Corp. (Aeros): In 1987 Igor Pasternak founded Aeros and advanced the company from a small advertising aerostat production manufacturer in the Ukraine to a premier airship producer and R&D firm for the aerospace industry based in the United States. Through their exceptional manufacturing quality, Aeros has achieved multiple FAA airship type certificates and operates with an FAA Production Certificate. Aeros currently boasts an extraordinary product line that includes the most advanced airships and tethered aerostats utilized in commercial and government applications throughout the world. For the past quarter century, Aeros has pioneered new product advancements in the aerospace defense technology sector, which has been a strong contributing factor in maintaining continuous corporate growth. The entire Aeros organization and the advisory board, comprised of military and commercial leaders, are dedicated to one goal of harnessing the exciting future and opportunities ahead. All Aeros team members are focused on meeting the rapidly rising demand for oversized cargo transportation solutions.
# # #
Aeros PR:
John Kiehle, Director of Communications
(323) 201-8374 or john(dot)kiehle(at)aeroscraft(dot)com
Aeros Sales:
Mario Pantuso, Sr. Military Product Manager
(323) 201-8377 or mario(dot)pantuso(at)aeroscraft(dot)com
Eli Weiss, PR Associate
(323) 201-8373 or eli(dot)weiss(at)aeroscraft(dot)com