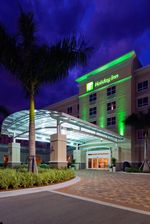 "Our deals are designed to beat even the best RSW airport parking coupons..."
Fort Myers, FL (PRWEB) July 10, 2013
Greenbee Parking, one of the fastest growing airport parking solutions company, has just announced a series of new deals for travelers frequently using the Fort Myers (RSW) airport. The range of discount parking options are so designed that even one time travelers can benefit from them. The percentage of savings can rise up to as high as 75% compared to any other competitive offers including the best of RSW airport parking coupons. For frequent travelers this is welcome news indeed as they can now opt for long term deals with Greenbee to secure parking space round the year without having to shell out a fortune. Fort Myers sees a heavy volume of business and leisure travelers both for Florida as well as the neighboring southern states. It is also an easy gateway to the top holiday destinations in the south making it one of the busiest airports in the country. With parking spaces at a premium it has become increasingly difficult to get affordable or secure spots for vehicles in recent years.
"We understand the mindsets of the modern day traveler completely," said Christine Cooper – Marketing Coordinator, Greenbee Parking. "What he or she wants is complete convenience and efficiency which will negate all travel worries and offers maximum comfort and savings every time one travels. Our deals are designed to beat even the best RSW airport parking coupons which means our customers can save more every time they book a parking space through us."
RSW Airport Parking Information
Southwest Florida International Airport (RSW) or Fort Myers as it is popularly known as, is one of the busiest southern airports which has reported over 7 million passenger footfalls annually in the last few years. With daily connectivity to major domestic and international destinations, the airport is now listed among the top 50 airports in the country, in terms of passenger as well as freight traffic. Naturally this has led to increased volume of ground traffic and rising demands for more parking spaces. While authorities have been hard at work to tackle the issue, premium space has led to steep parking rates making it even more difficult to park vehicles at the airport.
The LeeTran and the MBA Airport Transportation has great public transport options but it isn't enough to solve the parking space issue. Now with the discounted cheap parking spaces from Greenbee Parking there are finally some feasible options for travelers using this busy airport. Travelers can now enjoy secure parking spots when they book online which will cut down their travel worries by half. Fast and efficient service means they can book instantly whenever they want, even in hurry. And all these at a price that can beat deals and offers like the usual RSW airport parking coupons, hands down.
The Greenbee Airport Parking Solution
Greenbee Parking has effectively bridged the gap between parking problems and solutions at both airports and major seaports. They have tied up with major hotels for available parking spaces at discounted rates which they offer their customers across the nation who can now save more than 75% of their parking costs.
All they need to do is visit Greenbeeparking, select their city or airport of choice, choose the parking spot and pay through a secured payment gateway. There is a comprehensive list of airports and parking spots to choose from. Greenbee's wide network makes it possible for every customer who logs in to find a solution.
About Greenbee Parking
Greenbee Parking is the nation's most innovative long term parking company, with a new way of making long term parking affordable. The company is rapidly adding new airports to its network.