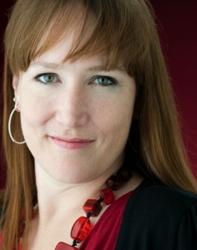 I've learned that there are many paths to success.It's now time for me to reach back and help others.
Washington, DC (PRWEB) July 09, 2013
The Washington, DC chapter of the Entrepreneurs' Organization (EO-DC) has just welcomed Jen Sterling, owner of the design and marketing firm Red Thinking, LLC as its new president, a position she will hold for one year.
Sterling, a well-known figure in the DC-metro community, sitting on several area boards of directors, embodies the spirit and drive that makes up all successful entrepreneurs. Sterling is now running her third design firm after failing with her previous business.
"I've been a failure," says Sterling, who is open and honest about her previous business and the mistakes she's made, adding, "getting back up after losing everything was one of the hardest personal and professional challenges I've ever faced. I certainly don't recommend failure to any business owner but it was also transformative. Besides, you aren't really an entrepreneur until you have failed at least once." Sterling says that she is a true entrepreneur and realized that the creative team who stayed with her, the clients who stood by her, and the support of the EO membership meant she had something more to provide. "I've learned that there are many paths to success and EO members were instrumental in helping me find a new way – and I have. It's now time for me to reach back and help others."
EO-DC is part of a global network of more than 9,000 entrepreneurs all of whom run companies that exceed $1 million in gross revenue. Members of the Washington, DC chapter generate median revenues of $2.5 million and employ more than 5,000 people, according to chapter statistics.
Sterling has been an EO-DC member for the past 3 years and previously served as the local communications chair.
"I plan to bring a fresh perspective to running and growing a business in this post-recession economy," says Sterling. "Entrepreneurs provide leadership and growth to their communities and this is especially true here in Washington, DC. There is so much more happening here than just the federal government. There are thriving businesses and organizations like EO that provide a wealth of support – a brain pool of experience. My goal is to help the local chapter expand and tap into our area's unique energy."
About Jen Sterling and Red Thinking, LLC
Jen Sterling is a well-known business leader and high-energy volunteer. She is a graduate of Leadership Fairfax and enthusiastically serves on several boards in the Northern Virginia area such as Reston Hospital, Leadership Fairfax, Fairfax County Parks Foundation and numerous small business advisory boards. Her community leadership positions include: past Chairman of the Board of Success in the City, past Chairman of the Greater Reston Chamber of Commerce, past Chairman of the Loudoun County Chamber of Commerce, and past Chairman of the INC.spire incubator program
Red Thinking's award-winning visual design and full-service marketing and branding solutions address the demands of businesses in the metro Washington, DC market.
About the Entrepreneurs' Organization
The Entrepreneurs' Organization is a dynamic, global network of more than 9,000 business owners in 40 countries. Founded in 1987 by a group of young entrepreneurs, EO is the catalyst that enables entrepreneurs to learn and grow from each other, leading to greater business success and an enriched personal life. Membership in one of EO's 120 chapters is by invitation only; the average member is 41 years old with annual revenues of US$17.3 million. For more information on the Entrepreneurs' Organization, visit http://www.eonetwork.org or call +1.703.519.6700.