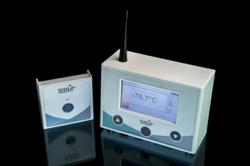 "Tutela Genesis II is the most complete, robust, flexible and future-proof solution to recording and monitoring in medical and scientific facilities," says Joe Joyce, VP North America, for Tutela
Tampa, FL (PRWEB) July 11, 2013
Targeted at all medical, scientific, healthcare and research institutions, the Genesis II wireless medical monitoring system comprises a new range of sensor transmitters that communicate with a Tutela Wireless Alarm Repeater Panel (WARP) via Tutela's self-healing T-Mesh network to create the most complete, robust, flexible and future-proof solution for remote monitoring in medical and scientific facilities.
T-Mesh is the latest Tutela development in networking, where the wireless network is able to heal itself using intelligent repeater modules so that if there is any glitch, a wireless sensor module simply finds an alternative signal path to the WARP panel.
The Tutela WARP is a wall-mounted panel that provides all the information needed from the monitoring system at a glance. Displaying the data from up to 254 sensors connected via wireless transmitter modules, any deviation from any sensor in the system is flagged in red for immediate action on a large easy to read LCD color display.
Being entirely web-based and wireless, Tutela Genesis II installation is non-intrusive with minimal local IT integration or support needed. The WARP and transmitter models are all designed to be discretely wall mounted and, with the ability of the Tutela wireless repeater modules to seek the optimum signal paths, Tutela is simply the easiest remote monitoring and alarming system to install and maintain.
Genesis II can operate standalone or, connected to a LAN can be interrogated via an intuitive web interface. And being web-based, electronic records are securely accessible 24/7 anywhere in the world on any device able to support a web-browser through the Tutela GUI.
A full range of NIST traceable sensors are offered by Tutela covering cryogenic LN2, freezer, refrigerator, ambient, incubator, humidity, gas differential pressure and many more. Each transmitter module can support up to 2 sensors and can locally store historical records for up to 7 days.
The Tutela Genesis II wireless temperature monitoring system is highly flexible and can be configured to meet the needs of a multi fixture, multi-site organization right down to one refrigerator. The system was designed with a seamless upgrade path; a single monitored unit can be expanded up to multiple fixtures, departments and even buildings, all via standard Ethernet.
The 24/7 Tutela remote alarm-monitoring center is manned by real human beings in the UK who will call specified staff with any deviation from the norm to ensure that action is taken before it becomes a compliance issue and /or serious financial loss.
The Tutela service fully meets the exacting requirements of the FDA and Joint Commission, which includes the use of unique electronic signatures specifically linked to fully traceable operator names. Coupled with the highest level of data security and a rock-solid audit trail of sensor records and incidents, Tutela medical monitoring systems are guaranteed 100% compliant with all regulatory bodies and medical associations.
For more information on Genesis II and Tutela Wireless Medical Monitoring Systems, Find out more about the Tutela Wireless medical Monitoring System - Genesis II with self healing T-Mesh wireless network] please visit our website.
Download full Press release and Images here.
Ends
About Tutela Medical
Tutela Medical (Farnborough Hampshire) supply and install fully validated and compliant web-based, wireless temperature monitoring and recording systems for Medical, Biomedical, Laboratory, Pharmacy, Healthcare, Hospitals, Blood Banks, Plasma Centers and Research facilities worldwide.
Tutela Monitoring Systems LLC are part of Next Control Systems, an ISO9001:2008 company that has been successfully marketing web-based medical wireless temperature monitoring and recording systems worldwide for over 20 years.
For more information, contact:
Joe Joyce - Vice President National Sales, North America
Tel: 414-708-8360
Email: Press(at)Tutelamedical(dot)com
Tutela Monitoring Systems LLC
Box 47136
16350 Bruce B. Downs Blvd
Tampa
Florida 33646
Tel: +1 941 408 7589