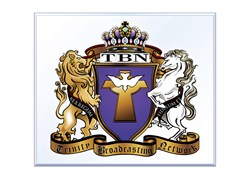 (PRWEB) July 15, 2013
There's a new light shining in America's Heartland! Trinity Broadcasting Network, the world's largest religious broadcaster and America's favorite faith-and-family channel, announced the launch of WMWC-TV Channel 53, a new full-power Christian television station covering the four Illinois and Iowa communities known as the Quad Cities: Moline and Rock Island, Illinois on the western banks of the Mississippi River, and Davenport and Bettendorf, Iowa to the east.
"We're excited to welcome Channel 53 to TBN's ever-growing broadcast family," said TBN founder and President, Dr. Paul Crouch. "With the addition of WMWC to our nationwide lineup of full-power stations, over a half-million potential viewers will now have 24-hour access to the life-giving Christian programming that has been TBN's hallmark for the past forty years."
Station manager Tammy Robinson said that while presently TBN is the sole network broadcasting on WMWC, she expects that in the near future Channel 53 will begin multi-casting TBN's four other premier faith-and-family networks: the Church Channel, the JCTV youth network, TBN's Enlace Spanish-language affiliate, and the Smile of a Child children's channel.
Robinson noted that local Quad Cities residents are excited to have a Christian TV station located right in their community. "While TBN has been available in the area through cable and satellite service, there are many folks who either can't afford that service, or live in rural areas where it's not available," she said. "We're already getting letters and calls from some of these individuals and families, thanking us for making TBN available for free over the air."
The network is presently working on construction of a new studio facility for Channel 53 in Moline, Illinois, which will enhance the station's ability to produce programming like Joy in Our Town and a local version of TBN's signature music and ministry program Praise the Lord. "Local pastors have told me that there's been a shortage of good, solid family programming on TV in the area," said Robinson. "Many of our church leaders are really anticipating the positive spiritual impact TBN will have on these communities."
Tim Bowman, senior pastor of Calvary Church of the Quad Cities and president of the Quad Cities Association of Evangelicals, said he and other local clergy are looking forward to working closely with TBN and WMWC on special programming and community initiatives. "It's so encouraging as a pastor to know that Trinity Broadcasting Network sensed a leading of the Lord to purchase a television station and to build a studio in the Quad Cities area to do local programming," he said. "They have committed to share the Gospel of Jesus Christ and to help promote life-giving organizations within our community."
TBN Vice President Matthew Crouch noted that with the combination of cable and satellite coverage, along with its 37 full-power digital stations in communities around the nation, TBN now reaches 98 percent of America's homes with 24-hour faith-and-family TV. "When you add our iTBN.org online portal and our exclusive TBN viewing app available on iPhones, iPads, and smart phones, you begin to understand the meaning of our slogan 'TBN Everywhere' — that in reality, there is literally nowhere in the inhabited world TBN does not reach."
He added that "this commitment to cover the earth with the hope of the Gospel has been TBN's motivation for the past forty years, and it's what continues to guide all we do."
To find out more about the 24 (and growing) global members of the Trinity Broadcasting Family of Networks, visit us online at http://www.tbn.org.