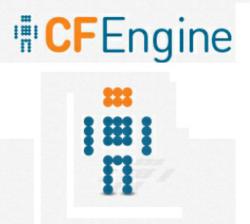 Achieves new levels of scalability and ease-of-use
for managing cloud-based and on-premise IT infrastructure
PALO ALTO, CA (PRWEB) July 10, 2013
CFEngine Inc., provider of the world's leading open source configuration management software, today announced the availability of CFEngine Enterprise, version 3.5. With CFEngine Enterprise, IT professionals can automate the management of IT Infrastructure at any scale and complexity, resulting in better quality of service, better security, faster response times and significant cost savings.
"As IT organizations face escalating demands for IT services, CFEngine Enterprise 3.5 enables them to deliver these services fast, reliably and with minimal growth in headcount and resources," says Adrian Hall, President and CEO at CFEngine. "Our focus on ease-of-use makes it possible for IT organizations to enable more of their customers to rapidly provision their own IT services. As a result, IT organizations become more effective enablers of change and innovation."
"Customers tell us that they want to empower their developers by delivering a self-service portal where they can consume infrastructure-as-a-service," says CFEngine's Vice President of Product Management, Yoav Boaz, who recently joined the company from VMWare, where he was responsible for product strategy of the vCenter Operations product suite. "With CFEngine Enterprise 3.5 IT teams can provide automation of such services across private, public and hybrid clouds, making it the perfect solution for heterogeneous environments."
New Levels of Scalability in CFEngine Enterprise 3.5
Many of the largest companies in the world, including three from the Fortune 20, automate their infrastructure with CFEngine. Even our smaller customers often see their infrastructure grow to hundreds or thousands of applications, virtual machines and physical servers. The market-leading scalability of CFEngine ensures that users can automate their IT infrastructure with a simple and reliable architecture, with continuous validation and superior performance.
Version 3.5 takes this scalability to a new level:

Policy Server Scalability
CFEngine Enterprise already had a reputation for strong scalability, managing thousands of servers from a single Policy Server, while maintaining 5-minute intervals for compliance checks on all managed servers. New parallel processing of policy requests in version 3.5 elevates this to managing more than 5,000 servers from one Policy Server.
The 'Mission Portal' of CFEngine Enterprise continuously provides System Administrators with detailed analytics about their IT infrastructure and the impact of deviations from its desired state. New in version 3.5, the information collected is configurable in policy, so network traffic from servers to the CFEngine database can be optimized by collecting just the requested information.
Federation and SQL Reporting
CFEngine Enterprise already has flexibility to create federated structures, in which departments within organizations can create their own configuration policies, while the central IT organization can impose policies that are more global in nature. New in CFEngine Enterprise 3.5 is that it now supports federated reporting as well. With a single SQL-query, information from distributed policy servers can be retrieved to report a holistic view of all infrastructure across all parts of the organization - all under RBAC control.
New Levels of Ease-of-Use in CFEngine Enterprise 3.5
Significant improvements have been made at all levels of the product to make it easier to use. From better low-level parser messages, to improved documentation and installation, more transparent compliance computations, all the way to the integration of Design Center in the product's new graphical user interface.
CFEngine Design Center is a curated repository of sketches, templates for managing configurations of IT services. Using these sketches saves time when creating configurations, gives access to the best practices of the large CFEngine community and removes the need for a detailed knowledge of the policy language to rapidly become productive with CFEngine.
Among the new capabilities are:
Graphical User Interface for Design Center
Configure and deploy infrastructure policies with ease. Browse for the right template ("sketch"), fill in the details and select the servers that need to be impacted. Deploy with a single click and watch as the reports come in about the progress of the deployment. From basic system administration tasks to full application deployments, on physical servers or in the cloud, at any scale.
Design Center sketches with integrated monitoring and reporting
The CFEngine policy templates, "sketches", have integrated reporting so it is easy to understand their impact. When deployed, you'll receive continuous detailed reports about compliance with their policies, repairs made and failures of servers to match their desired state.
Delegation of System Administrator Tasks
CFEngine experts can create their own sketches, to match the exact needs of the organization in which they are used. They can be hosted in the Design Center repository, so that other administrators, developers and line-of-business users can use them to perform sophisticated sysadmin tasks without the need for detailed CFEngine knowledge.
Version Control for Sketches
CFEngine Enterprise keeps track of all changes in sketches and sketch-deployments, using Git-integration to track authors, source-code and meta-information about policy deployments.
"Nearly all IT organizations from Web 2.0 and technology startups to Fortune 500 enterprises are moving toward more rapid iteration of software and agile IT operations to address fast-moving markets and opportunities. They realize they have to embrace modern automation approaches to accomplish their goals," says Jay Lyman, senior analyst at 451 Research. "CFEngine Enterprise 3.5 is the kind of automation solution that can enable significant business value by supporting explosive growth in infrastructure without the need for equivalent increases in personnel. LinkedIn, one of CFEngine's customers that we interviewed, leverages CFEngine to bring new data centers into production within 10 minutes using a very small team of administrators. These kinds of productivity gains are possible across a range of enterprise verticals and are critical to staying innovative and competitive in today's market."
About CFEngine
CFEngine is the industry leader in automation of large-scale, software defined IT-infrastructure. It helps IT organizations improve productivity in times of growing demands and constrained resources. With CFEngine IT organizations provision new services much faster, while providing continuous availability and security compliance. Known for its ability to handle scale and complexity, CFEngine enables even the largest organizations in the world to become more agile. CFEngine has users in more than 100 countries, including many of the world's largest financial organizations, as well as companies like IBM, eBay, Cisco, Qualcomm, AMD, US Navy, US Energy Department, NASA, AT&T, Chevron and LinkedIn.
CFEngine is estimated to run on more than 10 million servers worldwide, executing billions of configuration checks every hour and automatically fixing thousands of system drifts that otherwise would have destabilized the infrastructure and required manual corrections.