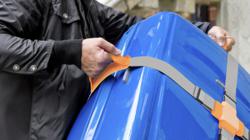 10% of frozen-shoulder cases may be summer-vacation related
New York, NY (PRWEB) July 11, 2013
"In recent years we have seen a steady increase in the number of shoulder patients visiting our website and clinics, during and immediately after the summer holiday period," says Simeon Niel-Asher who is a leading osteopath and co-founder of the website http://www.frozenshoulder.com. "23kg is an awful lot of weight, especially for elderly passengers. The sudden pull and jerk motion required to lift a suitcase from a moving baggage carousel may lead to medium or even severe shoulder conditions such as biceps tendonitis or adhesive capsulitis, better known as frozen shoulder."
The results of an online survey of 12,000 frozen shoulder patients conducted between July-September 2012 revealed that almost one in ten shoulder injuries incurred during that period were directly related to travel and tourism.
Whilst over 35% of the shoulder injuries reported by holiday makers were related to lifting heavy suitcases, almost the same number of injuries (33%) were related to holiday sports activities with the most dangerous of these being recorded as diving, swimming, tennis, golf, sailing, water skiing, and horse riding.
"There is a natural tendency for holiday makers to take advantage of sports facilities and outdoor activities offered by holiday resorts. Unfortunately, some vacationers who have been less than active in the months or years leading up to their holidays, suddenly get it into their heads to become yachtsman, golfers, or tennis aces," says Simeon Niel Asher, who this week sent an email to his patients, imploring them to think about the potential risks to their bodies, especially their shoulders, this summer holiday season.
"The last thing that you want is to come back from a summer vacation with a frozen shoulder. This a terribly debilitating condition that can render the shoulder practically immobile and can last, if not treated, for up to 30 months," says Diane Ostrofsky, a Physiotherapist and shoulder specialist who works with Simeon Niel-Asher.
According to well documented research, those most at risk are aged over 50 (with a slight female weighting) and it should be noted that diabetics are almost 5 times more susceptible to contracting frozen shoulder.
Niel-Asher's advice: Think before you lift your suitcases or when using the overhead lockers in an aircraft. If you haven't been active in the months or weeks leading up to your holiday, make sure you warm up properly before undertaking sports activities (including swimming) and always start slowly and gently. Finally, if you are unlucky enough to damage your shoulder, make sure to seek a professional diagnosis and treatment as soon as possible. Most common shoulder problems will benefit from early intervention by a qualified healthcare practitioner.
About http://www.Frozenshoulder.com
Frozenshoulder.com was launched in 1999 to provide help and advice to people suffering from medium to severe shoulder conditions. The website was co-founded by leading osteopath Simeon Niel-Asher who is renowned as the creator of NAT™ (Niel-Asher Technique) - a shoulder treatment used by over 3,000 doctors and healthcare practitioners in the United States and 18 other countries.
The Niel-Asher Technique is a non-invasive method of treatment that uses the body's own healing mechanisms. The technique uses a specific and unique sequence of manipulations and pressure points, stimulating a pathway in the brain to relieve injury and increase strength and power. It is uniquely effective and simple to teach. Simeon Niel-Asher BSc (Ost) BPhil is the author of "Treat Your own Frozen Shoulder" and the best selling "Concise Book of Trigger Points".
Contact
Steve Marks
Frozenshoulder.com
1-888-743-9773
steve(at)frozenshoulder(dot)com