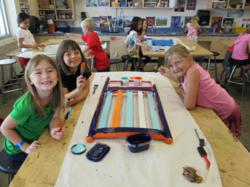 This public art initiative is a great thing to bring to Kyle. It's rare for such a small town to have public art or something like this, and Rock the Porch offers a way to engage and make people proud of where they live.

- Kyle Mayor Lucy Johnson
Kyle, Texas (PRWEB) July 11, 2013
This summer, Plum Creek – the mixed-use, master planned community located 20 minutes south of Austin in Kyle – launched Rock the Porch, a new public art initiative that will manifest in the creation of fifteen artistic rocking chairs by local artists, groups and individuals from within the City of Kyle. All fifteen of the Rock the Porch artists have been selected, and have begun to create sculptural art pieces that will be placed in the public spaces of Plum Creek and Kyle at the beginning of August.
Designed to engage both the neighborhood and the city of Kyle, Rock the Porch was created to provoke thoughts of what it means to be a neighbor and to inspire conversations among neighbors. Not only does it offer a creative way to engage and invigorate Plum Creek residents about their community, but it also supports the City of Kyle by bringing a unique art initiative to the area.
"This public art initiative is a great thing to bring to Kyle," Kyle Mayor Lucy Johnson said at a City Council meeting where Rock the Porch was addressed in May. "It's rare for such a small town to have public art or something like this, and Rock the Porch offers a way to engage and make people proud of where they live." Plum Creek worked with the city to launch and publicize the initiative, and to help determine locations for the chairs – which will include Seton Medical Center Hays, the Kyle Public Library, the Hays CISD Performing Arts Center, Kyle City Hall, as well as other places in the city and the Plum Creek community, such as the Plum Creek dog park, the Community Center and the Plum Creek Golf Course.
As part of the artist selection process, Rock the Porch artists submitted a conceptual idea of their rocking chair to factor into the selection for the project. Based on their concepts, each artist was paired with a specific landmark or area in the community so their creation would best speak to the location in which it is placed. Proposed rocking chair concepts include: a tertiary man, a BBQ-inspired piece, a chair that artistically incorporates metal and glass, and a chair that is decorated with photos taken in and around Plum Creek and Kyle.
The location selection process was a strategic decision on the part of the Plum Creek development team; they wanted to select spaces that were high in traffic and community focused so more people could appreciate and enjoy the art works, but they also wanted to make a point. While residential, commercial, civic and natural spaces may seem disparate and incompatible, Plum Creek believes they work better when they speak to each other and are connected. As a New Urbanist community, the neighborhood places homes, businesses, parks and gathering spaces all within walking distance from each other to create areas where residents are engaged with the community and with their neighbors. Through Rock the Porch, Plum Creek hopes to encourage people to think about and realize how different places within the Kyle community complement and speak to each other, and that, when united, they become much more meaningful and engaging than apart.
Some of the artists that are participating in Rock the Porch include the Negley Elementary School Garden Club; the Lake Kyle Adventure Summer Camp; a Cub Scout pack; the Kyle City Council; Plum Creek's Canasta Sisters; local artists, Diane and Seth Bray, Amy Ciganeiros and Jon Labruzza, and P.M. Summer; as well as a number of other individuals and families within Plum Creek. A full list of participating artists and more information, including photos and chair locations, is available on the Rock the Porch website, http://www.plumcreektx.com/rocktheporch and on the Plum Creek Facebook page.
###
About Plum Creek
Plum Creek is an award-winning 2,200-acre mixed-use, master-planned community located twenty minutes south of downtown Austin. Incorporating the principles of New Urbanism, Plum Creek is designed for the people who live, work and play there. Commercial and residential amenities include shared parks, walking and biking trails, pedestrian underpasses and a golf course. Plum Creek is in its second phase of development, which includes mixed-use, retail, residential and commercial projects.
In 2010, Austin Community College selected a Plum Creek site for a 96-acre Hays County campus, which is expected to open in spring 2014. Recently completed commercial real estate projects in Plum Creek include a Stepping Stone School Child Development Center, a TrustTexas Bank branch, a 264-unit multifamily project by Vantage Communities, Legend Oaks Kyle, and The Overlook at Plum Creek. Existing development covers roughly 500 acres. Sites available for development represent more than 1,500 acres of commercial, residential and mixed-use land.