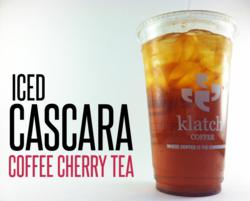 Cascara Tea has a sweet, bright and fruity aromatic profile that consumers are finding hard to resist.
Los Angeles, California (PRWEB) July 12, 2013
Southern California's specialty coffee roaster Klatch Coffee Inc. announces the arrival of Cascara Coffee Cherry Tea. Cascara Tea has a sweet, bright and fruity aromatic profile that consumers are finding hard to resist. "We can't keep it on the shelves," says Mike Perry of Klatch Coffee. "Our wholesale customers love it, and it is incredibly popular in our retail stores." Even avid coffee drinkers are boasting about it; "I'm not much of a tea drinker, but last week I tried Cascara for the first time and I'm hooked," said Coffee Guru Todd Goldsworthy.
Cascara is a tea made from steeping the dried skins, or "husks", of the coffee cherries and is filled with natural sugars and antioxidants from the skin and pulp of the coffee berry. This particular limited edition tea comes from a group of very selective farms in El Salvador, specifically of the regions of Metapán and Chalatenango to the north, and Apaneca to the west.
Proving its versatility, Cascara Tea is delicious hot or cold, as one Cascara skeptic found out. "One hot day last week I decided to try an Iced Cascara Tea for my afternoon pick-me-up. It blew me away," exclaimed John Marshall. On top of its refreshing organic sweetness, Cascara is also naturally caffeinated. This means consumers can partake in the health benefits of caffeine, such as improved cognitive function, while enjoying a cup of herbal tea.
Cascara Tea is available for purchase at http://www.klatchroasting.com and in Klatch Coffee's southern California retail locations in Rancho Cucamonga, Ontario and San Dimas.
About Klatch Coffee Inc.
Klatch is an award-winning and renowned specialty coffee company and roaster in Southern California. Awards for Klatch include being named 'Micro Coffee Roaster of the Year' by Roast Magazine. In addition, Klatch's WBC espresso blend is the only espresso ever awarded "Best Espresso in the World" at the World Barista Championships. Coffee Review, the world's leading coffee guide, has awarded over 80% of Klatch coffees with a score of 90 points or above.