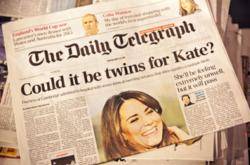 Ever since I heard Kate Middleton was pregnant I just knew it was going to be a girl!
Langhorne, PA (PRWEB) July 11, 2013
If you haven't placed your bet on the gender of Kate and William's first royal offspring yet, consider this: On July 9th, 62% of the 50 psychics surveyed at Psychic Source, the most respected psychic service provider, predicted that the royal couple will be welcoming a female heir.
Representing the majority of psychics surveyed, Psychic Ricky stated matter-of-factly: "It will be a girl. At least one of her names will be Diana."
Which is right in line with recent media prognostications about the upcoming bundle of royal joy? Just last week CNN reported on a scientist who found some evidence to support the princess prediction, though admittedly it was all based on non-conclusive correlations.
For example, there may be a link between high maternal caloric intake before pregnancy and a tendency toward male babies. Since Kate Middleton was not seen binging before she got pregnant, that would make a boy a bit less likely. Another possible link is between higher maternal stress and a higher likelihood of female issue. Kate leads a stressful life, ergo she's more likely to have a girl. Or so the postulating goes.
And yet, using their own methods of divination, 32% of the Psychic Source surveyed leaned boy-ward. "I see a boy for Kate," declared Narnia, one of the top psychic advisors on Psychic Source, "even though everyone says she is having a girl."
We'll find out the answer soon enough. In the mean time, when you decide where to put your money in the office royal baby pool, keep the psychic predictions in mind and join us in wishing the royal couple an easy birth and a happy, healthy baby!
****
About Psychic Source:
Founded in 1989, Psychic Source is the nation's oldest and most respected psychic service. Psychic Source's advisors are experts in astrology, horoscopes, numerology, tarot cards, clairvoyant readings, and many other psychic disciplines. Psychic Source believes in its community of authentic Psychics and stands behind the authentic psychic readings they deliver to clients. Visit them online at http://www.psychicsource.com.
For more information, contact:
Maryanne Fiedler, Marketing Director
maryanne(at)psychicsource(dot)com
215-953-8568