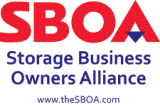 Farmington Hills, MI (PRWEB) July 11, 2013
The Storage Business Owners Alliance LLC ("SBOA")(http://www.theSBOA.com), the premiere buying group for self storage owners and operators nationwide, announced today that it has selected The Storage Group as its Preferred Vendor Partner for full-service Internet marketing.
"We are pleased to add The Storage Group (http://www.storageinternetmarketing.com) to our roster of vendors" Ian Burnstein of the SBOA stated. "We are confident that we will provide value to our members and to The Storage Group with this partnership."
The Storage Group, a leader in self storage online marketing solutions, offers several unique packages that make online branding affordable to all sizes of operators. With their website design and development programs, The Storage Group recognizes that self storage professionals only have one chance to make a good first impression. The Storage Group helps maximize online exposure in order to attract more prospective tenants. They were the first to provide an online credit card-secured rental program, giving storage operators the ability to offer its customers an option for moving into a storage unit 24/7.
Daniel A. Myers of Store It All Storage in Rockville, Maryland states, "I can say without any hesitation that The Storage Group has been an indispensable partner for me in this [internet marketing] field. The company developed a well thought out plan, properly executed and properly tracked. The company offered me everything – website design, SEO, Pay-Per-Click (PPC), local search, remote rentals and tracking. I am a satisfied customer."
To learn more about these affiliate programs and others, visit the Vendor Deals page on the SBOA website, http://www.theSBOA.com. The Storage Business Owners Alliance (SBOA) features exclusive pre-negotiated discounts for owners and operators in the self storage industry.
The Storage Group (http://www.storageinternetmarketing.com) is a website development and online marketing company that was founded by self storage veterans Larry Hanks and Brian Pelski. With 35+ years of combined self storage experience as owners, operators, appraisers, developers, and marketing specialists, they are well known for bringing innovative technology to the industry. Contact The Storage Group now at 407-792-5742 Ext. 1. or sales[at]storagegroupinc[dot]com.