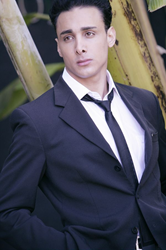 We are very excited to be playing a key role in bringing such a young and dynamic mind to the forefront of media with our extensive PR campaign.
Los Angeles, CA (PRWEB) July 11, 2013
PMBC Group, a full-service public relations firm, is pleased to announce a new client relationship with James Tarantin, acclaimed author of The Equation, philosopher, and founder of TarantinDream. PMBC Group will be responsible for all of James Tarantin's publicity and media presence.
"James Tarantin is one of this generation's most progressive and youngest thinkers of modern day time," said Ola Danilina, CEO/Founder of PMBC Group. "We are very excited to be playing a key role in bringing such a young and dynamic mind to the forefront of media with our extensive PR campaign."
One of the youngest philosophical thinkers of today, Tarantin is reinventing the spectrum of philosophy with his groundbreaking true story and enterprise, both of which work in tandem to enrich and inspire individuals to a higher degree. Tarantin studied five chief avenues of The Mind, Pragmatism & Enterprises, Morality, Metaphysics and Aesthetics, all of which inspire to construct the culminating vigor that lies at the foundation of James' prolific vision. With an eye on the future, Tarantin looks to increase the reach of his expanding enterprise, further solidifying his presence on the global stage.
Discovered at age 16, Tarantin's transformative book, The Equation, recounts a cross-cultural saga that traces a true story line, which spans over 58 years and streamlines across four continents. From youthful heroes standing up to people's thirst for exotic adventures, the book appeals to a large array of audience members around the world.
Tarantin immigrated to the United States alone with no family or financial means, leaving behind his beloved home in pursuit of the American Dream. He has since gained citizenship and has built a multi-faceted empire that converges his popular YouTube channel and TarantinDream, a company that he founded with the help of television and radio host Larry King. The company took the initiative to further catapult Tarantin's tour-de-force style, implementing its strategy science of international business classes, which include works of art, animation, networks, and games.
About PMBC Group
PMBC Group is a multi-tier public relations agency based in Los Angeles, with offices in Beverly Hills, dedicated to delivering results-driven PR campaigns through a new success-proven formula to navigate the current modern media landscape. PMBC produces immediate and long-term branding results by engaging existing and potential audiences with a collaboration of new and traditional media.
PMBC offers publicity and consultant services to help companies maintain, build, and advance long-term business goals. The agency also provides social networking, thought leadership, celebrity placements, and media training. PMBC creates the tools brands need to reach key investors and influencers in their field, build corporate image, and increase value.
PMBC is comprised of a team of professionals of varied backgrounds from public relations, merchandising, product development, venture capital, corporate, entertainment, hospitality, and social media. The agency is managed by professionals with a collective 50 years of experience rooted in traditional public relations, overseeing teams of young savvy executives, who are experts in social media, networking, and cultural trends.