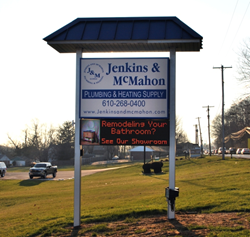 "We hope the sign conveys to the public that we are not just a wholesale supply company to just contractors, but that we also are homeowner friendly."
Toughkenamon, PA (PRWEB) July 16, 2013
Whether a contractor looking for the area's largest supply of in-stock materials or a consumer making a choice of fixtures for the home, Jenkins & McMahon's knowledgeable staff is happy to fill their needs and guide them through the process. Now, thanks to KC Sign and Awnings, with an updated sign and the addition of a new state-of-the-art LED message sign, they hope finding them and the right supplies on sale is much easier, too.
Brian Crossan of Jenkins & McMahon stated, "Our core focus is customer service and knowledge with regards to plumbing, heating, and A/C supply sales. We have a homeowner friendly showroom and 20+ years of experience that will assist, layout and coordinate your entire bathroom remodel needs."
Jenkins & McMahon Plumbing and Heating Supply have been in business since 1989. They pride themselves for being a trusted source for plumbing, heating and air conditioning supplies. Their goal with this sign renovation and the addition of the LED sign is to not only reach out to the contractors, but to the homeowners and "do-it-yourself" consumers as well.
Mr. Crossan continued, "We hope the sign conveys to the public that we are not just a wholesale supply company to just contractors, but that we also are homeowner friendly."
The new signage was provided and installed by KC Sign and Awnings. They installed a Vantage LED Phoenix™ Full Color LED sign featuring the powerful Darwin™ Industrial Control Unit that can handle the most demanding high resolution video and graphics. Jenkins & McMahon control the sign using the simple, yet powerful, LightSpeed™ LED sign software. The software is user friendly for the simple user, yet still packed with advanced features for the most tech savvy user.
"We have been using KC signs in the past for other projects and trusted Joe Clark's [of KC Sign and Awnings] recommendation. So we chose the LED sign to advertise our services and catch the customer's eye," Mr. Crossan summed up.
Jenkins & McMahon work hard to provide consumers with the latest styles for every need in every finish under one roof. They look forward to having the LED sign work even harder to bring customers into their showroom to complete their next project.
KC Sign & Awnings is a full service, interior and exterior, signage provider with over 20 years of experience in the Mid-Atlantic Region. The family owned and operated company with nearly 40 employees is committed to delivering the highest quality products on time. Their commitment to stand behind all of their work has enabled them to become one of the largest providers of all types of signage in the region. They now operate 3 locations that provide service to the PA, DE, NJ, and MD areas, with 25,000 square of manufacturing at the corporate facility.