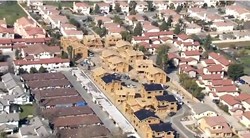 These are areas of focus where we hope to bring more opportunity through the EB-5 program… It's a good tool and important to our economic development tool chest.
Riverside, CA (PRWEB) July 25, 2013
Supervisor John Benoit was appointed to the Riverside County Board of Supervisors in 2009 and serves as Chairman. He represents the fourth district, which spans from Palm Springs to the Salton Sea. Currently, Riverside County is home to 59 regional centers and Benoit and the Board of Supervisors have been in full support of the program in the county.
"The EB-5 program has become a terrific assistance to us in the past few years. Now in the Coachella Valley, we're still growing into that. We recently opened a regional center in Desert Hot Springs. It's up and operational."
One of the first major projects coming down the pipeline is around the Desert Dunes Golf Club and although Benoit couldn't get into the specifics of the project, he did say the project would have a big impact on the community, creating jobs and he expects it to break ground in a couple years, adding that it's in its "infancy" stage.
Historically, Riverside County has been one of the fastest growing counties in the United States, but when the recession hit, it also became one with the highest rates of unemployment. He says, "That unemployment rate is the focus of what we're trying to do with all our import, export, and EB-5 related tools that we're using in trying to get people back to work in Riverside County."
Although Benoit's district is the largest in Riverside County, with 10 cities and a population of more than 500,000, it's has one of the high rates of unemployment in the county. He says, "These are areas of focus where we hope to bring more opportunity through the EB-5 program… It's a good tool and important to our economic development tool chest... EB-5 has filled a gap for many small businesses that otherwise would not have occurred."
The Supervisor acknowledged that there are problems within the program that he says need to be addressed. He would like to see faster processing times for EB-5 petitions and would like to see full transparency within the program. He does however foresee expanded use of the program in his district, helping to bring in more high tech jobs and he supports bringing people into the country who have the resources to help create jobs. He says, "The future for EB-5 is strong and we're certainly going to continue to support the expansion of it in Riverside County."