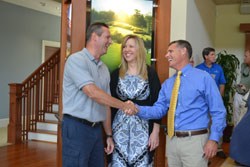 When people compare Brunswick Forest with similar communities in New Hanover County in terms of amenities and lifestyle, they see Brunswick Forest as a tremendous value. – Jerry Helms, Director of Sales for Brunswick Forest
Leland, NC (PRWEB) July 18, 2013
For Anna and Jimmy Oberto, who purchased the 1000th property sold in Brunswick Forest, life in the coastal South's fastest-growing community is grand.
The Chicago couple has owned a vacation home in Brunswick Forest since June of 2010, so they are well acquainted with the community, its tremendous amenities and its enviable lifestyle. What is new for them is their elegant, soon-to-be-completed residence overlooking the pond on the third hole of the Cape Fear National Golf Course. Built by Logan Homes, it will become the primary residence for the couple and their sons Chris, 18, and Corey, 15, in July of this year.
While each of the neighborhoods and environments in Brunswick Forest has its charms, the decision to build on Cape Fear National was an easy one for the Obertos.
"We are all golfers," Anna Oberto explained. "Our motto is: A family that plays together stays together. Therefore, a golf course community was high on our list…Okay, it was probably number one on the list if you ask the men in the house."
Anna said the family has played numerous golf courses in the area, including many in Myrtle Beach, "however, nothing compares to Cape Fear National," she said. "The impeccable design provides amazing views throughout the 18 holes. Of course, for the avid golfers in the family, the challenges of the course are far more important than these picturesque views."
While golf was the family's primary draw, Anna said they also enjoy the impressive community pool with its Splash Café, as well as the full-service Fitness and Wellness Center's extensive exercise equipment, up-to-date classes and social offerings. "Taking advantage of all the center offers will be key to our healthy lifestyles in Brunswick Forest," said Anna. "There is absolutely something for everyone in this great community."
The Obertos are not the first to move to Brunswick Forest from out of state. The Wilmington-area subdivision of Brunswick Forest has residents from more than 20 states, and several countries, creating a unique blend of interesting people and perspectives.
"Brunswick Forest and Brunswick County are hot," Jerry Helms, Director of Sales for Brunswick Forest said, "especially as Wilmington has become saturated. When people compare Brunswick Forest with similar communities in New Hanover County in terms of amenities and lifestyle, they see Brunswick Forest as a tremendous value."
This is why so many families, including the Obertos, are planning to call Brunswick Forest home.
"There used to be a Brunswick Forest billboard on Highway 17 that read 'Welcome Home,'" Anna said, "and every time we came into the community, I would read it aloud…Welcome Home! It was a great feeling to know we would eventually call Brunswick Forest home. Now, after being part-time residents for years, it feels good to be making the transition to full-time living in the Brunswick Forest community."
About Brunswick Forest:
A master-planned community in Wilmington, N.C., Brunswick Forest offers luxurious town homes and single-family homes, as well as a wealth of amenities within walking distance.
In The Villages at Brunswick Forest, residents can find convenient shopping, dining and access to medical care and other services, just outside their doorsteps. Centrally located, Brunswick Forest is also just 10 minutes away from historic downtown Wilmington, N.C., as well as 30 minutes from pristine beaches. Nestled within 4,500 acres of heavily wooded areas, residents of Brunswick Forest can enjoy the tranquility of the great outdoors just as much as they enjoy a peaceful night in.
Truly a community that offers something for everyone, homeowners can choose to reside in an upscale estate, a low-maintenance patio home or everything in between. The options are endless for building a lifetime of memories inside one of the cherished homes of Brunswick Forest.