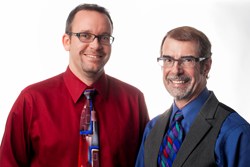 "You two are amazing. Keep it up--you truly are touching many lives." Kelley Balkus, Breast Friends Connection Cancer Support Group
Holden, MA (PRWEB) July 16, 2013
All too often, caregivers dealing with an angry, difficult and confused parent feel isolated, as if they are the only one dealing with the issues. "As we strive to provide loving, compassionate care to our ailing loved one, we often ignore our own physical and emotional needs, failing to recognize the stress we are under," say Tom Ingrassia and Jared Chrudimsky, of The MotivAct Group. To help address this need, Ingrassia and Chrudimsky have developed a version of their innovative Mental Massage(tm) program, tailored to providing a brief, enlightening escape from the stresses and strains of daily life as a caregiver. In its original format, developed by the two in 2011, Mental Massage is a fusion of guided visualization and re-energizing massage in a transformational workshop designed to help participants clarify, set and achieve their goals. "Our 'Mental Massage for the Caregiver' workshop still employs guided visualization and hands-on massage," says Ingrassia, "but the focus is more on relaxation and stress management." Chrudimsky added,"During a two hour workshop, we give caregivers permission to focus on themselves, their own well being, and to re-engage with their own aspirations and dreams. Our goal is to give them the tools to continue this process once they get home."
And, apparently, they are seeing great success. Ingrassia and Chrudimsky have been regular speakers at the Shrewsbury, MA-based Breast Friends Connection Cancer Support Group for the past three years. According to Breast Friends facilitator Kelley Balkus, "You two are amazing. Keep it up--you truly are touching many lives." A participant in another recent workshop said, "This relates to real life experience for me. I thought I was going to have a nervous breakdown. I don't think I would have gotten through this if it weren't for Tom's and Jared's visualization activity. Now, whenever I become especially upset, I sit back, close my eyes, and visualize myself in a peaceful place. It calms me down, and reminds me that I have the power to get through this."
"I can't thank you enough for the empowerment and hope your message brought to so many," said another workshop participant.
Ingrassia has worked as a motivational speaker and life coach for the past twelve years. Chrudimsky is a licensed massage therapist with over fifteen years experience. In addition to his work with MotivAct, he is owner of Worcester, MA-based Revitalize Massage Therapy. In addition to caregiver and cancer support group, the team also offers holistic personal and professional development program for job seekers, college students, clients of financial services companies, Chambers of Commerce and business networking groups, and health and wellness centers.
"Jared and I share a passion for helping our clients achieve a more balanced, healthy and harmonious life," says Ingrassia. "Our work with caregivers and those recovering from cancer is so rewarding. We feel that we are making a difference not only in people's lives, but also in the world. We leave each workshop having received so much more than we gave."
In addition to their work with The MotivAct Group, Ingrassia and Chrudimsky also are the authors of "One Door Closes: Overcoming Adversity By Following Your Dreams," due out in October from Wyatt-Mackenzie Publishing.