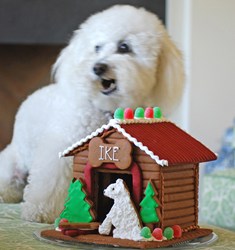 We thought maybe it was time to let the dogs have their day with their own gingerbread dog houses.
Solvang, CA (PRWEB) July 16, 2013
The Solvang Bakery, a Solvang, California Danish bakery, announced its new pet product line, The Gingerbread Dog, today. A Danish pastry and gingerbread specialist for over 30 years, The Solvang Bakery is extending its renowned Christmas/Hanukkah gingerbread line to include the family dog for the 2013 holiday season.
"We've accumulated some amusing stories over the years about dogs taking a particular interest in our holiday gingerbread houses," said Melissa Halme Redell, co-owner at The Solvang Bakery. "Perhaps the most entertaining anecdote was the massive Rhodesian ridgeback that ate not one, but two, of our large gingerbread houses in one Christmas season. We thought maybe it was time to let the dogs have their day with their own gingerbread dog houses."
The Gingerbread Dog House is modeled after the dimensions of a typical all-American dog house. A gingerbread dog bone sports the name of the family pet above the door, and a gingerbread dog sits guard on the porch. Owners select from a black, tan, or white dog to match their pet's fur, and may also have their family name hand-iced on the roof. Incorporating only dog-friendly ingredients, all features are edible. As with all of The Solvang Bakery's gingerbread houses, everything is crafted by hand. Base model ($99).
"We've been incredibly fortunate to have a loyal and growing following for our holiday gingerbread houses," said Redell. "We're so grateful for people like Kelly Ripa and journalist Frances Schultz for being vocal fans of our products." The Solvang Bakery has been shipping its gingerbread creations to movie stars, sports stars, authors, TV personalities, and socialites throughout the country since 1995. "We think of our own dogs as family members, and we know many of our clients do too," said Redell. "Why should they be left out during the holidays?"
The Solvang Bakery is located at 438 Alisal Road in Solvang, California 93463. It specializes in gingerbread houses, Danish pastries, iced cookies, wedding cakes, cupcakes, and specialty cakes. Owned and operated by mother-daughter team Susan Halme and Melissa Halme Redell. Website: http://www.SolvangBakery.com
For more information, or to schedule an interview with Melissa Halme Redell or Susan Halme, please contact Julie Farrell at 805-448-7777, or Julie(at)SolvangBakery(dot)com.