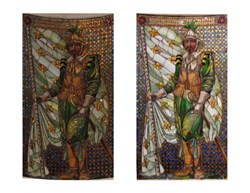 You allowed us to see things we've never seen before. Recently, an art historian asked us to send him a restoration report on one of our Rubens paintings. The curator told him the painting had not been restored... it was the new SoLux lighting.
Rochester, NY (PRWEB) July 23, 2013
In an attempt to freshen up paintings to make colors more vivid, famous works of art have been irrevocably altered or destroyed by attempting to restore them. In a radical departure from this practice, an American inventor, Kevin McGuire, President of Tailored Lighting Inc. has developed a new technique for removing the yellow from aged paintings without touching or altering them.
Art is often thought of as dark and lifeless due to years of dirt and grime accumulating on the surface of the painting in addition to discoloration of lacquer and varnish after years of exposure. In an attempt to bring art back to its original splendor, art is often restored using expensive and painstaking techniques hoping to bring out the colors originally intended by the artists.
On top of major costs, painting restoration is not without hazards or controversy. In late 2011, two of France's most respected art experts resigned from Louvre gallery in Paris. Their departure came amid an argument over the cleaning of Leonardo da Vinci's 500-year-old masterpiece, The Virgin and Child with Saint Anne.
In addition, ArtWatch, an organization dedicated to the prevention of unnecessary restoration called the restoration of Michelangelo's Sistine Chapel "a disaster". "The restorers got rid of a great deal of Michelangelo's work, claiming wrongly that it was merely soot, dirt, or the result of later painters. In fact, it was Michelangelo's work they got rid of," stated Michael Daley, head of ArtWatch, who went on to explain, "the colors were made garish and clashing because the restorers removed the layers of varnish Michelangelo had applied quite deliberately in order to harmonize and to damp down his colors. "Michelangelo's masterpiece is still magnificent," he adds. "But it has been very significantly diminished."
It is not only the works of Old Masters that suffer at the hands of restorers. Much more recent paintings by artists such as Turner, Renoir, Sergeant, Seurat, Klimt, and Picasso have undergone restorations that have left them looking less impressive than they did prior to the restorers' intervention.
The challenge is to remove the effects of aging without diminishing the integrity of the original painting. The answer according to Kevin McGuire, is illuminating paintings with the right wavelengths of light so only the true colors are seen. "Another example of this principle are X-rays. With X-rays, certain wavelengths of invisible light are chosen so the light goes through skin and reveals the area of interest. Likewise, if paintings are lit with the proper visible lighting, the aged elements of the painting are made transparent revealing the original colors to the eye."
The right lighting according to Kevin McGuire is a lighting condition that perfectly mimics the sun at ten degrees above the horizon or what is referred to as 3500K daylight. Paintings illuminated with 3500K daylight look clear, vivid, and newly painted. A critic's review of a exhibit of van Gogh's and Gauguin's illuminated by SoLux 3500K daylight invented by Kevin McGuire, praised paintings that had been shown many times before, but effectively seen for the first time with the new light. "The effect is electrifying: the paint still looks wet; one waits instinctively for a waft of linseed… the paintings seem naked, new, and endless… the hi-tech radiance that shines down is thoroughly democratic…the patterning of brush strokes, even the micro-thin shadow lines – are all evenhandedly revealed… all seems forever young.
This lighting condition produced by SoLux 3500K lighting allows colors to come through especially in dimly lit environments present in museums and art galleries. McGuire theorizes that over the ages man has adapted to this lighting condition as a matter of survival. "When the sun sets, game animals start to move and graze. Historically, this is the time when man needed to have keen vision in order to survive." This hereditary trait is what makes 3500K daylight the optimal light condition for viewing paintings in dimly lit environments like museums. 3500K lighting also contains less red, yellow, and orange light than incandescent light diminishing the effects of aged varnish and lacquer." McGuire goes on to say, "There are other optical techniques that we have developed that further refine images that are shared primarily with our clients."
Andreas Bluhm, former Director of the Wallraf-Richartz Museum in Cologne Germany, liked what he saw of 3500K SoLux when he first saw them illuminate a collection of van Goghs and installed the light source throughout his museum. To Dr. Bluhm's amusement, visiting members from other museums sometimes asked him if his staff retouched or restored painting in his museum. In a letter to Mr. McGuire he wrote, "The installation of SoLux was the single major improvement to this museum last year. You allowed us to see things we've never seen before. Recently, an art historian asked us to send him a restoration report on one of our Rubens paintings. The curator told him that the painting had not been restored lately. The art historian replied by saying: 'But I see so many more details now.' 'Well, that is the new SoLux lighting,' the curator explained."
In a series of youtube videos, Dr. Bluhm explains the importance of SoLux 3500K on a number of his prized paintings. Van Gogh's Drawbridge, Princess Louise from Prussia, Adolf von Menzel.
SoLux is a patented light source sold by Tailored Lighting Inc., Rochester, New York, 14624. SoLux provides an unparalleled replication of natural daylight. Use of SoLux in many of the world's top museums, including the van Gogh, Musée d'Orsay, and Guggenheim Museum, is testament to its unmatched color quality and safety. SoLux also has eight times the life and twice the efficiency of standard incandescent sources, does not contain the mercury found in fluorescent lights sources, and is a fraction of the cost of LED sources. For more information, visit http://www.solux.net or call (800-254-4487).