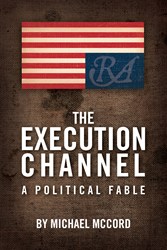 "The book aspires, as Lewis Carroll's White Queen so eloquently put it, to believe six impossible things at once, if not before breakfast then certainly by supper."
EXETER, N. H. (PRWEB) July 17, 2013
What will readers encounter when exploring the wicked and witty satirical universe of Michael McCord's The Execution Channel: A Political Fable?
First, they will travel to the not-too-distant future and discover the emerging new country of Real America, a new flag (see the book cover), and the Galtian Imperatives, a faith-based economic religion which promises that extreme austerity and tax cut policies will ensure "prosperity for all" though the exact details of the alchemy remain elusive. Next, readers will see that John Galt, the fictional hero of Ayn Rand's Atlas Shrugged, has become the founding father icon of Real America and the Real American Party, the new political force sweeping the land. Local militias do their patriotic duty and lead the privatization craze throughout Real America while employing a creative protection racket plan to fit every business budget.
Finally, readers will behold the majesty of The Execution Channel – a televinet network that promotes a focus-group tested variety of live executions in football stadium settings. As foretold by the Galtian Imperatives, The Execution Channel is hailed as a model of modern economic policy that seamlessly merges massive private sector profits and public sector bankruptcy.
Set in 2018 in an increasingly non-United States of America, The Execution Channel: A Political Fable is fantastical in its imaginative scope of American political rhetoric and public policy run amok. McCord, an award-winning journalist and writer who lives in New Hampshire, offers fictional reportage with a provocative twist and more than a few punch lines.
"I started with questions inspired by contemporary headlines," McCord explained. "What if politicians were rewarded for being incoherent and vowed to create a government worth hating before eliminating government altogether? What if political majorities were denied the right to have their votes count due to a new mathematics of democracy and destroying the economy became an austerity-driven virtue? What if lawmakers were required to secure corporate sponsors and every sector of government was privatized, including capital punishment, education, and public safety? Given that our current political environment aspires to ever greater heights of absurdity, it seemed natural to imagine a uniquely American parallel universe playing out over the next few election cycles."
Readers also will encounter an intriguing, colorful cast of characters that embrace a higher calling of extreme self-interest:

Gov. Lawrence C. "Demon Seed" Bowie of the Real American Republic of Texas is in a political fix because his 'War on the Poor' tax plan isn't working.
Texas militia leader Col. Rufus T. Fairbush wants to replace Bowie by the bullet or ballot while running on a platform to eliminate the idea of government.
Conservative televinet producer Jason Bravtart seeks redemption following the scandalous cancellation of The Real Homeless of Malibu Beach.
Billionaire speculator James "Big Stake" Frimmer II wants another big financial score to spread his political influence.
In the SoCal Liberty Territory of California, Penelope the Psychic is forced to be a confidential informant for Mr. Jones, the most feared security operator in Real America.
"The initial spark for this satirical romp came from a 2011 Republican presidential primary debate when some of the audience cheered at the notion that if people without health insurance died, there was nothing anyone could do," McCord said. "I then made the leap to a perfectly sensible investment scheme of publicly televised executions in which guilt or innocence matter less than profit margins. From there, the theme menu grew to include the cult of Ayn Rand, political ambition, incoherence as a political virtue, greed redefined, secession, free market economics with no restraint, the primacy of sperm, backyard rocket launchers, psychic readings, reality TV mortgage foreclosures and monuments to austerity. "The book aspires, as Lewis Carroll's White Queen so eloquently put it, to believe six impossible things at once, if not before breakfast then certainly by supper."
The Execution Channel: A Political Fable is a subversive satire for our times and will leave readers wondering: Just how REAL is Real America?
Michael McCord, the former political editor and columnist for The Portsmouth (NH) Herald, is an award-winning journalist and writer. He covered his first presidential primary campaign in 1980 and has written for more than 40 publications. The Execution Channel: A Political Fable was developed through CreateSpace Publishing and partially funded by a successful Kickstarter crowdfunding proposal.
For more information about Michael McCord, the book and how to purchase it now, please visit http://www.the-execution-channel.com. The book will also be available soon on Amazon and Kindle Books. For author interviews and other inquiries, please contact Marybeth McGurl at 603.970.0277 or marybethmcgurl@rocketmail.com.