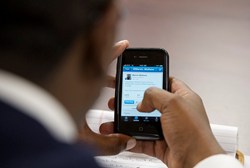 Scottsdale, AZ (PRWEB) July 15, 2013
The influence of social media on business success is not just an overnight fad. It's proving to be a necessary component of any business's marketing strategy.
Ignore these statistics at your own risk:

80 percent of people prefer to get coupons, promos, and discounts from brands in social media, according to Hub Spot.
43 percent of all online consumers are social media fans or followers, states Harp Social.
42 percent of people have mentioned a brand in a Facebook status update, according to Hub Spot.
These statistics can be summed up in one sentence: Businesses like yours must have a social media presence.
But it takes more than just creating a Facebook page or Twitter account. The messaging itself is the key in promoting your brand and generating sales from both prospective and current customers.
Here are six tips for effective social media messaging:
1. Offer coupons.
The best type of messaging is one that saves people money. Nothing shows this better than special coupons and discounts. It's one of the top ways to attract and keep visitors to your social media sites.
Use online scheduling software to make it easy for customers to instantly purchase your services.
2. Know your customers' 'language'.
Speak the "language" of your customer. This means your message may need a more casual, informal tone. For others, it's using more technical terms and phrases.
3. Know your customers' online habits.
Many businesses are finding their niche within specific social media outlets.
For example, Hub Spot reports that B2B businesses experience a 61 percent success rate in customer acquisition using LinkedIn. According to comScore, 80 percent of Pinterest's users are female.
Examining patterns in customers' and prospects social media habits helps you remain focused.
4. Use videos.
Most people today would rather watch information that read about it. Educate your prospects with engaging "How-To" videos. You can then direct them back to your Web site.
5. Create unique content.
Give customers compelling and engaging information. This will keep them coming back for more, which equates into more customers and sales. Providing customers with useful information shows that you care, and they'll show you their appreciation through repeat business and loyalty.
According to a study by market research firm Lab42, 77 percent of respondents who "liked" a business on Facebook had saved money on their products/services.
6. Use graphics.
Photos, graphs, info-graphics and other visuals resonate better with most visitors than just content. Establishing an immediate connection with these individuals oftentimes results in quick sales and instant customers.
Learn how Appointment-Plus scheduling software can help boost your social media campaign. Click here to download our research paper titled "Manual Vs. Automated Appointment Scheduling". Call 800-988-0061.
#
About Appointment-Plus: Over 16 million people trust Appointment-Plus online scheduling software for their booking needs. It's the leading business scheduler that provides customer self-scheduling, reminder notifications that reduce no-shows by 70 percent, and online payment processing. The software syncs with Facebook and Twitter.
For media and bloggers: If you're interested in interviewing an executive to learn more about Appointment-Plus, please e-mail us at erichard(at)appointment-plus(dot)com. If you're a blogger interested in sharing stories and guest articles, please contact us at the above e-mail.