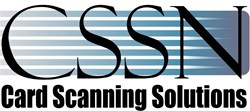 Los Angeles, CA (PRWEB) July 17, 2013
As a leader in the development of Optical Character Recognition (OCR) technology and image processing solutions, Card Scanning Solutions Inc., will be exhibiting at the Harland Financial Solutions Connections 2013 Annual Conference from the 12th to 15th of August, 2013. The Connections Conference will be held this year in Nashville, Tennessee at the Gaylord Opryland Resort & Convention Center. Exhibiting at booth 41, Card Scanning Solutions Inc. will demonstrate their ScanShell® 800R OCR scanner, SnapShell® OCR ID reader, and software which have been integrated with the Encore® branch automation software solution by Harland Financial Solutions. This amalgamation of leading solutions has provided a time- and cost effective means of automated information collection which has resulted in greater efficiency, limited human error and reduced costs.
Harland Financial Solutions is a strategic technology partner that supplies comprehensive software solutions and service to over 6,000 financial institutions such as credit unions, commercial banks, thrifts, mortgage companies and credit unions. These solutions include business intelligence, risk management, financial accounting, payments, loan servicing and more and these aim at boosting institutional performance and driving profitability. The Annual Connections Conference provides financial institutions with the comprehensive platform to access strategic partners, to gain hands-on training and practical knowledge of proven best practices as well as the opportunity to maximize existing technology.
Harland Financial Solutions has integrated their branch automation solution Encore® with Card Scanning Solutions Inc.'s ScanShell® 800R scanner, SnapShell® ID Reader, and software. The Encore® solution is compatible with Microsoft® SQL Server® 2012 and it enables financial institutions to address their client's needs effectively at the teller line, platform, call center and account servicing area. Since Encore® can easily be customized to operate in a tailored environment, this software is able to enhance the operations and management of any financial institution. The integration of Encore® with two of Card Scanning Solutions Inc.'s cutting-edge scanners and software has enabled users to automate the account origination process. This means that instead of entering the driver's license data manually, by using Card Scanning Solutions Inc.'s ScanShell® 800R scanner and/or the SnapShell® ID Reader, the user can scan the license and then the software will take over and capture the data to auto-populate the appropriate fields in the account origination pages. The image of the card is saved as well. With the ability to extract vital information automatically, human error is reduced, time is saved and a paperless environment can be created with accurate record keeping.
The portable ScanShell® 800R A6 OCR card scanner from Card Scanning Solutions Inc. is attached to the USB port of a computer and no external power supply is required. The ScanShell® 800R is TWAIN compatible and ROHS compliant which makes this hardware from Card Scanning Solutions Inc. the perfect solution for scanning, managing and saving the images of any documents. The compact design of this scanner has a very small footprint making it ideal for both mobile and desktop use in any financial institution.
Card Scanning Solutions Inc.'s SnapShell® OCR ID Reader is a revolutionary ID camera scanner which captures driver's license information quickly and accurately. With its easy plug and play installation, ID reading with Card Scanning Solutions Inc.'s SnapShell® ID scanner, is as simple as snapping a picture. Once a card is placed on the scanner, the auto-detect feature triggers scanning and it is able to extract both data and images from the ID card. This ability gives the flexibility to capture a full image of the ID card, or to only capture the face and signature image.
The SnapShell® ID Reader uses a 3 mega-pixel camera built into its base and it offers high quality, fast image capture of 1 second for 300 dpi and 2 seconds for 600 dpi. The ID scanner's innovative geometric design features a small footprint and it is a low maintenance solution which has no moving parts and requires no calibration.
With Card Scanning Solutions Inc.'s comprehensive OCR Software Developers Kit (SDK), the advanced reading technology of the software with SnapShell® ID reader and the ScanShell® 800R OCR scanner have been easily incorporated directly into the Encore® software giving users full access to the automated data-collection process. The Connections 2013 Annual Conference in Nashville, Tennessee will give users the opportunity to learn more about the integrated solution of Encore® and Card Scanning Solutions Inc.'s scanners and software so step into Booth 41 and experience state-of-the art technology to enhance the user's financial institute.
About the Harland Financial Solutions Connections Annual Conference
The Connections Annual Conference is being held this year in Nashville, Tennessee and this event offers financial institutions the opportunity to learn about new business opportunities, to meet, connect and exchange new concepts and ideas with peers, to receive hands-on training, to learn about the cutting-edge solutions offered by Harland Financial Solutions, to maximize existing technology investments and more. This conference will provide attendees with over 200 sessions to choose from providing the maximum benefits of the conference experience and the opportunity for financial institutions to compete aggressively in this industry.
Additional information on the image processing solutions offered by CSSN, Inc. can be found at http://www.card-reader.com
Card Scanning Solutions (CSSN Inc.) is a leading developer of card reading and image processing technologies. They are renowned for developing an OCR engine that can read the driver licenses and ID's from all 50 states and over 80 countries. Their high-level DSP (digital signal processing) algorithms are able to filter and clean tarnished images received from an ID scanner, which differentiates their technology from other OCR providers. CSSN Inc. offers valuable solutions that significantly increase productivity, save time and money and result in greater efficiency in a wide variety of industries including Medical, Financial, Hospitality, Security and more.
For more information contact:
Celeste Monzon, Marketing Manager
213/867- 2625