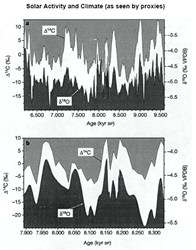 Low-carbon policies are misdirecting public funds because the vast majority of human influence is nominal. The sun is the main driver of climate change, not CO2
Calgary, Alberta, Canada (PRWEB) July 23, 2013
Climate change policies to reduce carbon dioxide (CO2) emissions, already under attack in the UK and several European countries due to their burdensome costs to taxpayers, are in for another jolt as The Economist reports in the July 20, 2013 edition that IPCC estimates of CO2's impact on global warming may have been too high.
"The draft table casts doubt on how solid the link really is between 450 ppm and a 2°C rise," reports The Economist, cautioning that this is based on a draft and not the final report.
Friends of Science point to this report as evidence that climate policy linkage to four frequently cited "97% consensus" studies that reference the IPCC, are inadequate samples and misrepresent the scope of scientific opinion.
Friends of Science state that four frequently cited consensus studies include scientists who hold a broad range of views on the impact of greenhouse gas emissions. Many scientists categorized as included in the consensus hold the opposite view - that natural factors are mostly responsible for 20th century warming. Many say greenhouse gases had only a minor effect on global temperatures. The 'consensus' studies misrepresent the views of many climate scientists.
Friends of Science director Ken Gregory states, "Our group of scientists also agree that humans affect climate through activities like clearing land, as well as fossil fuel use, but we disagree about the impact of carbon dioxide (CO2). Further, most consensus surveys refer to 'some' warming - not the IPCC official position."
Gregory points out that this is an important distinction not stated in the recent 97% consensus studies and not reflected in comments by President Obama as reported in Bloomberg June 25, 2013 or David Suzuki as reported in The Straight June 18, 2013.
"97% Consensus" is regularly blown out of proportion with the President saying "Ninety-seven percent of scientists" when there has not been a survey of "all" scientists. Some 'consensus' survey methods only review abstracts - a process that has lead to scientists angrily speaking out against the classification of their work as reported by Andrew Bolt of the Herald Sun of Melbourne on May 22, 2013.
Gregory notes that a key point is that while consensus surveys make reference the IPCC, they do not use the same percentage or time frame parameters asking only if humans cause 'some' or 'most' of 'recent' warming. The official Intergovernmental Panel on Climate Change (IPCC) position is that greenhouse gas emissions caused more than 90% of the warming since the mid-20th century.
Many governments and industries have enacted stringent low-carbon policies or GHG reduction taxes according to IPCC forecasts. These have burdened taxpayers and industry.
The IPCC was established with a mandate to examine factors "relevant in understanding human-induced climate change, its potential impacts, and options for mitigation and adaptation" not natural factors.
According to research by many scientists like Svensmark, Veizer, Shaviv, Scaffetta and others, natural factors like solar cycles or cosmic rays exert more powerful influences on climate than human-made CO2 emissions. This scientific consensus on natural factors is under reported.
Climate change low-carbon policies have lead to billions of dollars being expended world-wide on carbon reduction programs, with no discernible benefit to the environment and no reduction in carbon dioxide.
Friends of Science President Len Maier says, "Low-carbon policies are misdirecting public funds because the greenhouse gas emissions have only a minor effect on temperatures. The sun is the main driver of climate change, not CO2."
The details of the consensus deconstruction can be found on the Friends of Science website.
About Friends of Science
Friends of Science have spent a decade reviewing a broad spectrum of literature on climate change and have concluded the sun is the main driver of climate change, not carbon dioxide (CO2). The core group of the Friends of Science is made up of retired and active earth and atmospheric scientists. Membership is open to the public and available on-line.
Contact:
Friends of Science
P.O. Box 23167, Connaught P.O.
Calgary, Alberta
Canada T2S 3B1
Toll-free Telephone: 1-888-789-9597
friendsofscience.org
E-mail: contact(at)friendsofscience.org