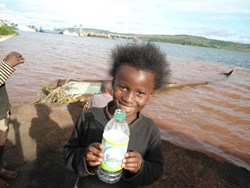 Sanctified Water aims not only to hydrate, but also to enlighten. The positivity we put into each and every bottle is as fundamental to life as the water itself.
Thornhill, Ontario (PRWEB) July 16, 2013
The creators of the recently launched Sanctified Water have taken new approach to the concept of bottled water—one that focuses on spreading love and positivity to others.
Drawn from a sustainable spring, Sanctified Water is infused with positive energy from start to finish. Throughout the bottling process, positive and uplifting music is played in the company's manufacturing facility to capture the essence of happiness and positivity in each bottle. Each Sanctified Water bottle comes with a removable label bearing a personalized affirmation to encourage the practice of daily positive thinking.
"The human body is more than 60 percent water," said Vanessa Wentzell, CEO of Sanctified Water. "For such an important and life-sustaining element of our existence, we often don't have much of a connection to the water we drink. Sanctified Water aims not only to hydrate, but also to enlighten. The positivity we put into each and every bottle is as fundamental to life as the water itself."
Wentzell got the idea for Sanctified Water while going through a rough patch in her life. She embarked on reading several books on positive thinking and viewed a video on a water experiment performed by Masaru Emoto. In the experiment, Emoto observed the physical effects on the crystalline structure of water when the music and environment around it changed. Wentzell saw an opportunity to combine this idea of positive thinking to the basic building block of life—water.
In addition to improving the daily lives of its customers, Sanctified Water contributes significantly to charity. For every bottle purchased, the company will donate a portion of its proceeds to Daily Bread Uganda, an organization that provides food, water, sanitation and health services to impoverished individuals and families in the African country Uganda.
Each bottle of Sanctified Water has an NFC sticker, allowing anyone with an NFC-enabled smartphone to scan the sticker and access a number of helpful environmental and recycling awareness resources online. There, users can sign up to plant trees, clean up garbage at a local park and even donate to important causes directly from their smartphones. Sanctified Water can collect data through this process to help the company better understand which environmental issues need the most attention, further focusing its efforts.
"Bottled water is here to stay, but we all need to do our part in the 'pay it forward' revolution," said Wentzell. "If you drink bottled water, you should do something positive for the environment, and no effort is too small. We are trying to change the bottled water industry to be more responsible and accountable."
Sanctified Water also strongly supports recycling efforts worldwide, and the company only uses virgin resin, lightweight Polyethylene Terephthalate, an easily recycled plastic that can be reused in a wide variety of consumer goods. Additionally, all of Sanctified Water's bottles are 100 percent BPA free. The water itself contains no sodium and is drawn from a spring that has received a Berkeley Spring Gold Medal for being the best-tasting premium spring water in the world.
"When you look at the many problems facing this world, you really have two options," said Wentzell. "You can either fall into despair or you can embrace a positive philosophy and try to make a difference. Sanctified Water is all about making positive change in the world, and we are doing it one bottle at a time by making a connection with our customers and donating to philanthropic organizations. At the end of the day, we feel good knowing that we are contributing to the world in a positive manner."
Sanctified Water is available for purchase throughout North America, Africa and Europe. Users may also follow the brand on Twitter at http://www.twitter.com/sanctifiedwater or on Facebook at https://www.facebook.com/sanctifiedwater.