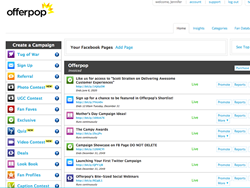 With our two solutions working in concert, marketers can capture the most relevant information about customers and better target their email offers and communications.

- Wendell Lansford, CEO, Offerpop
NEW YORK, NY (PRWEB) July 16, 2013
Offerpop, the most widely used social marketing platform, launched its app for ExactTarget HubExchange today, giving brands the ability to power email marketing with rich social data.
Available in the ExactTarget HubExchange Marketplace, Offerpop's easy-to-use applications are designed to make launching mobile-ready campaigns across all the major social networks and web pages a snap. With Offerpop, marketers can build fun sweepstakes, promotions, user-generated content and hashtag campaigns as well as activate consumer sales with social media.
Offerpop's social campaigns are also an excellent resource for collecting high-value email addresses and fan data. The integration means ExactTarget customers can seamlessly map any fan information collected from Offerpop campaigns – from email addresses to demographics – to whichever subscriber lists they choose, driving detailed social data to their email marketing database.
"Social has become the go-to source for cost effective email acquisition," said Wendell Lansford, CEO and Co-Founder of Offerpop. "And now we're making it easier than ever to connect brands' social campaigns with their email marketing efforts by joining the ExactTarget HubExchange. With our two solutions working in concert, marketers can capture the most relevant information about customers and better target their email offers and communications."
"We are pleased to welcome Offerpop to ExactTarget HubExchange," said Ian Murdock, ExactTarget's Vice President, Platform and Developer Community. "Together with companies like Offerpop, ExactTarget is transforming digital marketing, providing marketers around the world with a powerful platform and ecosystem of integrated applications to create customer experiences that build loyalty and drive results."
HubExchange is ExactTarget's app marketplace that enables technology providers to build and deliver integrated applications within ExactTarget's Interactive Marketing Hub. Much like a consumer purchases and downloads app on a smartphone, HubExchange enables marketers to access and install ExactTarget and third-party developed digital marketing apps, making it easy to integrate new features or marketing solutions to power marketing campaigns from within ExactTarget.
To learn more about ExactTarget HubExchange visit http://www.HubExchange.com.
About Offerpop
Offerpop is a super easy-to-use social marketing platform for Facebook, Twitter, Pinterest and Instagram. Marketers across the globe use Offerpop to build active fan bases, optimize their social content, and unlock rich, actionable data that converts fans into customers. From small businesses to top brands like Etsy, Pepsi, and MTV, companies use Offerpop to drive success across their key marketing channels – engaging and converting fans like never before. Offerpop is a Facebook® Preferred Marketing Developer, qualified by the PMD program in Apps. In addition, Offerpop is a member of Twitter's Certified Product Program.
For more information, please contact Mairead Ridge, at Mairead(at)Offerpop(dot)com.