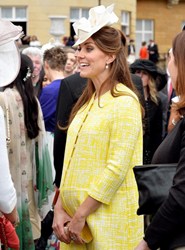 "birth is not only about making babies. birth is about making mothers...strong, competent, capable mothers who trust themselves and know their inner strength."
Barbara Katz Rothman
(PRWEB) July 20, 2013
The family history website Findmypast.com has researched the links between the offspring of Prince William and Kate Middleton [bit.ly/1aJWQbr] due any day announces AncestorEbooks.
After carefully reviewing the family trees' of Queen Elizabeth II, Princess Diana, and Kate Middleton [bit.ly/1aJWQbr], they have discovered which celebrity offspring have the closest familial link to the future Royal Highness. Not surprisingly most of the connections came from links to the late Princess Diana.
D. Joshua Taylor, lead genealogist for Findmypast.com said, "While not surprising, the closest connection unearthed among Hollywood's babies comes from a connection to the late Princess Diana, the royal baby's grandmother. Diana's ancestry includes a number of early New England families, which means a large number of Americans will find a closer kinship with the heir to the throne than to the current Queen. Therefore, you don't have to be a celebrity to trace your ancestry to the royal family. Millions of Americans are related to royalty and their family tree is just waiting to be discovered."
Presently, the most closely related celebrity to royal lines are eleventh cousins, Violet Anne, Seraphina Rose Elizabeth, and Samuel Garner Affleck, the children of celebrity couple Jennifer Garner and Ben Affleck. The late Princess Diana and Affleck's family had ancestral links. [bit.ly/1aJWQbr]
Since Hilary Duff and Queen Elizabeth II can both trace their ancestry back to King Edward III, Luca Cruz Comrie, the offspring of Hilary Duff and Mike Comrie, can has claim to being the nineteenth cousin to the new royal baby.
Then the biological children of Brad Pitt and Angelina Jolie are twenty-seventh cousins to the royal baby through both the Pitt and Jolie lines, however they are more closely related through Pitt than through Jolie.
In the July 9 article by John R. Kennedy of the Global News, "According to a British genealogy website, the prince or princess will be a distant cousin of the Canadian singer's sons René-Charles, Eddy and Nelson.
The Royal baby will be the twenty-sixth cousin thrice removed of Dion's children, according tofindmypast.co.uk."
Blue Ivy Carter, the baby born to Beyonce Knowles and Jay-Z, has ties to the Queen, and therefor the royal baby, through a French royal heritage. [bit.ly/13LKXzd]
Tracing a family tree back to royalty would begin with finding a "Gateway" ancestor, according to The Family History Show. [bit.ly/1aK3IFM] A "Gateway" ancestor is a person with an "established pedigree" or traceable through public and military records. The Family History Show says, "In the field of genealogy, these Gateway ancestors are verifiable points, used to build a "family tree" back to Royal heritage."
The mathematical "balance of probability" of a Royal relationship is approximately 20% of the population that might have a "Royal" connection, however the number might be slightly higher since "illegitimate affairs and discreetly secret relationships were most-likely never acknowledged or documented."
In a bit of fun the BuzzFeed Community posted a Royal Name Generator on June 18 where Americans can find out what their names and titles might be if they were considered of royal bloodline. "Using this chart, my royal name would be His Royal Mungo Tittington," stated Gayla Mendenhall, "which might confuse my husband!"
"Wouldn't it be excited to discover that you have ties to royalty? Certainly many dream of being connected to the British throne, but it would still be wonderful to be connected to any royalty from around the world. And an ebook through AncestorEbooks.com would be a great way to share that family history with the rest of your loved ones," concluded Gayla Mendenhall of AncestorEbooks.