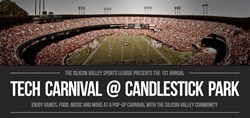 '... first time this event is being held - but it looks like a great event - and a GREAT networking opportunity that should not be missed. This event is worth the $10.00 fee (proceeds go to the Special Olympics of N.Calif.)' - Daniel Parrillo SF Examiner
San Francisco, CA (PRWEB) July 16, 2013
The Silicon Valley Sports League presents the 1st Annual - Tech Carnival @ Candlestick Park with 100% of proceeds going to Special Olympics of Northern California.
Event will be held on July 17th, 2013 from 6-10:30 p.m.
Join the tech event of the summer and get to know a few thousand of Silicon Valley's best and brightest while enjoying unparalleled access to Candlestick Park, games, food, music and more.
There will be carnival games you haven't played since you were ten, giant inflatable obstacle courses, sumo wrestling, jousting, cash machines, cornhole tournaments and a half-dozen food trucks.
AccountingSuite will be hosting the Ring Toss game with the grand prize of A's home game tickets behind home plate.
There will also be live performances from Randi Zuckerberg's Feedbomb and the notorious Coverflow.
Tickets include unlimited rides/activities & free parking, and proceeds go to the Special Olympics of Northern California.
Live in SF and concerned about getting to Candlestick and back? Two of participating comapnies, Lyft & Uber, have pitched in to help you out. If you are a new Lyft or Uber user, use the code "SVSL" for a $20 credit. With Lyft, this will get you from SOMA to Candlestick with money to spare. With uberX, the total trip from Candlestick to SOMA will cost ~$5. Not a bad deal. Also use the code "TechCarnivalSF" for a 20% discount on all Uber rides to & from the TechCarnival.
----------------------------------------------------------------------
The best companies in Silicon Valley are participating. Including:
10gen, 99designs, 500 Startups, AccountingSuite, ApartmentList, AppDirect, AppDynamics, Box, DFJ, Evernote, Facebook, Founder Institute, Google, GoPro, Jawbone, LinkedIn, Lumosity, Lyft, Marketo, NestGSV, Nitro, oPower, Palantir, Quixey, Reputation, RocketFuel, Runway, Sandbox Suites, Scoop.it, Seagate, Sendgrid, Spotify, Square, Startup Weekend, Silicon Valley Bank, Tango, TriNet, Tokbox, Uber, Vungle, WellnessFX, WSGR, Yahoo, Y-Combinator, Zazzle, Zozi and Zoosk
Activities include:
Basketball, Bouncy Boxing, Bull Ride, Bungee Run, Cash Blowing Machines, Dart Balloons, Roller Ball, Dual Ladder Climb, Dunk Tank, First Down Extreme Football Challenge, Velcro Walls, Giant Twister, Gladiator Pedestal Joust, Mini Golf, Hi-Striker, Human Bowling, Human Foosball, Quarterback Attack, Ring Toss, Rock Wall, Skeeball, Speed Cage, Sumo Wrestling, Survivor Obstacle Course, and Trampolines.
Buy tickets here to join the tech event of the summer.
Want to bring the whole company (at a greatly reduced price)? Please email misha(at)svsportsleague(dot)com.
About AccountingSuite:
AccountingSuite is a San Francisco startup funded by parent company 1C LLC, an international enterprise software group with more than 1 million business customers in Asia and Europe.
Our mission is to provide easy-to-use, no-nonsense business software for startups, entrepreneurs, and established businesses to manage their finances and day-to-day operations.
Our vision for AccountingSuite is to give you, your employees and business partners easy, secure access to company information from anywhere on the planet—empowering everyone at your company with the business-critical information that often makes the difference between gaining new customers and losing them to the competition.
AccountingSuite is cloud-based for easy implementation and low maintenance costs, another way our software helps simplify your daily workflow and uncomplicate your business.