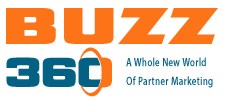 The large firms we're targeting will get the technology into the hands of a very broad small business market.
Minneapolis, Minnesota (PRWEB) July 18, 2013
Buzz360 LLC (http://www.buzz360.co) today announced it has launched a customizable, brandable marketing platform for media companies, franchisors, manufacturers, and other organizations that market to or through small businesses. The technology enables these organizations to help their customers and resellers sell more and become more profitable.
The Buzz360™platform creates an online community that attracts new customers, automates email marketing to get repeat business, automatically posts to Facebook, automatically generates social referral and feedback from existing customers, and creates and automatically updates a mobile sales tool and web sites that the customer specifies. Buzz360™is a customized, white-label solution that features and promotes the brand of the large companies that license it.
"I've devoted most of my career to building companies with software products that are useful for, and usable by, small business people, and I've never been more excited than I am about Buzz360," said Klaus Schneegans, CFO and cofounder. Added Lisa Schneegans, CEO: "My passion is building effective partner channels to bring a product to market. The large firms we're targeting with Buzz360 will get the technology into the hands of a very broad small business market."
What does Buzz360™ do?

Lead generation
Automated Facebook posting
Automated customer feedback
Automated digital portfolio
Promotion of specials
Automatic mobile website
Project communication
Estimate requests
Automated "drip" email
Automated social referrals
Buzz360™ provides several benefits for large firms marketing to small business:

Makes marketing more manageable for their customers
Removes complexity and automates the process for them
Solidifies the role of the larger firm as a business-generation partner
Adds value to their relationships with their small-business customers
The large firm becomes more profitable as their smaller partners do
The platform is reasonably priced, and easy to install and brand
Buzz360™ grew out of a site aimed at small businesses in the home renovation industry called ReferralBuzz (http://www.ReferralBuzz.com), founded by the same team more than a year ago. That site has grown to more than 100 customers and has proven the effectiveness of this business-generating technology – now resulting in the launch of a private–label version of the platform under the name Buzz360™.
About Buzz360 LLC
Buzz360 (http://www.buzz360.co) is "Marketing Automation for Small Business." It features social and automated marketing tools, plus the best of CRM, to give firms that serve or market through small businesses a powerful private-label solution. It kick-starts small business, leveling the playing field for them in today's challenging new world of marketing and social business. By branding and implementing the platform, larger firms can sell and profit more by making their small-business customers more successful.
About the Founders
Both ReferralBuzz and Buzz360 were cofounded by two software startup veterans:

Lisa Schneegans, Cofounder and CEO - In addition to being a serial entrepreneur, Lisa has held management and executive positions at SAP America, American Crystal Sugar, and Praxis Software Solutions, which she and her partners founded, grew, and sold to SAP AG in 2006.
Klaus Schneegans, Cofounder and CFO - Klaus has a wealth of business experience in both the U.S. and Europe. His primary focus has been on the management of small, high-growth companies. Klaus created and sold several successful companies in the IT field, serving small business as well as Fortune 500 companies. He was a cofounder of Praxis Software Solutions, which was acquired by SAP AG. Klaus holds an MBA from Aachen University in Germany.
# # #