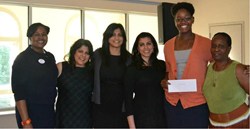 ACS Group strongly believes in the work the YWCA is doing to change these young women's lives, to live out their dreams and to have a more secure and successful future.
(PRWEB) July 18, 2013
ACS Group is a longtime supporter of the YWCA of Greater Atlanta's TGI Tech program, which is dedicated to preparing young women for non-traditional careers with a STEM focus.
"These scholarship[s] can help to open the door for a program participant whose goal is to immerse herself in non-traditional learning subjects. The opportunity to go to college is something some of these girls may not have without outside assistance, such as the generous scholarship[s] provided by ACS Group," said Judy Fears, TGI Tech program director.
The TGI Tech program is introduced to middle school students and continues through high school. ACS Group President Raj Sardana and his wife, Nita Sardana, ACS Vice President of Community Outreach and Corporate Giving, have sponsored TGI Tech since 2006. ACS encourages its employees to take an active role in strengthening the community by supporting teen technology education and mentoring.
"The YWCA's Teen Girl's In Technology (TGI-Tech) is truly a life changing program," Nita Sardana commented. "ACS Group strongly believes in the work the YWCA is doing to change these young women's lives, to live out their dreams and to have a more secure and successful future. For this reason, ACS Group supports the girls and the program by offering scholarships to help the young women through college. This is the second graduating class and the second time we awarded two $10,000 scholarships to two very deserving young women. This year's winners are: Rachel Taylor and Adia Applewhite. Thank you to the YWCA and Judy Fears, the TGI-Tech Program Manager for the impact they are making, changing the trajectory of the lives of Atlanta's young women."
"ACS provides leading-edge information technology solutions and understands how very important it is to foster IT careers for girls today so we can fill the pipeline with skilled professionals for the future," Raj Sardana said. "These same students may one day be ACS consultants working at Fortune 100 companies here in Atlanta."
TGI Tech seeks to increase girls' interest, confidence and competence in Science Technology, Engineering and Math (STEM) by helping young women (ages 12-18) overcome barriers and stereotypes in these areas. The program provides girls with innovative learning opportunities while helping them to develop critical thinking and problem solving skills. TGI Tech prepares young women to enter a world of non-traditional, STEM-related careers such as engineering, oceanography, computer science and biotechnology. The program also links girls to successful women in STEM professions for mentoring and encouragement.
YWCA of Greater Atlanta is a not-for-profit membership organization that provides social services, advocacy, education and leadership development. It is dedicated to eliminating racism, empowering women and promoting peace, justice, freedom and dignity for all. Established on the Spelman College campus in 1902, the YWCA of Greater Atlanta has six key programs: Women In Transition, Teen Girls in Technology, Early Learning Academy, After School Learning Academy, EncorePlus and Empowered Youth Entertainment. It is a member of World YWCA, which is comprised of YWCAs in 106 countries around the globe.
About ACS Group, Inc.
Founded in 1998, ACS Group, Inc. is a global information technology services company, offering IT consulting and staffing services, systems integration and business solutions to organizations in a variety of industries. Through its extensive resource pool and global recruitment centers, ACS offers unparalleled expertise in delivering solutions for Fortune 1000 companies worldwide. ACS works in partnership with customers to understand their challenges, share their vision and deliver mission specific solutions. For more information about ACS Group, please visit http://www.acsicorp.com.
About COMFORCE
COMFORCE is a leading global provider of staffing and workforce solutions specializing in temporary, temporary-to-hire and direct placements of highly qualified IT, telecom, engineering, healthcare and business professionals. Through integrity, service excellence and innovation COMFORCE provides unparalleled value to customers and employees. For more information, please visit http://www.comforce.com.
About HireGenics, Inc.
HireGenics creates enterprise value through eliminating risk and restructuring the client's workforce. HireGenics provides automated payroll services to assure compliance, MSP services to optimize the contingent labor process and provides procurement strategies that effectively manage deliverable-based projects or services spend. HireGenics delivers high quality, process based services at a faster pace, driving out cost and accelerating time to value for our clients. For more information, please visit http://www.hiregenics.com.
About CrossUSA
CrossUSA is a nationwide provider of IT outsourcing solutions leveraging several US-based Rural Development Centers. CrossUSA's Rural Development Center delivery model provides organizations in the Healthcare Insurance, Healthcare Provider, Financial Services and Manufacturing industries with experienced, dedicated teams of consultants that provide stable, low-cost workforce solutions for long-term projects and support. For more information, please visit http://www.cross-usa.com.