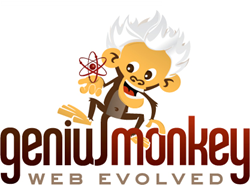 Advertisers used to run television commercials, having no idea of who would see them and whether or not they actually watched them through.
Phoenix, AZ (PRWEB) July 18, 2013
Genius Monkey, the leader in today's innovative marketing techniques, has announced the release of the new Optimize Online TV advertising program. Utilizing programmatic tracking and cookie data, Genius Monkey can actually determine, and target, the demographic comprised of consumers that have recently been shopping for the goods or services offered by the advertiser. Specific targeting results in a higher and much more effective click through rate, as those responding viewers are already presold on the product or service.
This new technology by Genius Monkey is astounding, insomuch as it can be delivered to the right audience, in the right geographical location, whether advertisers want to reach only those residing on a particular street, or online shoppers across the entire nation. The ads will show up on popular websites such as YouTube, ESPN, Forbes, The New York Times, Food Network and thousands more.
One of the most appealing benefits of this online advertising program is that there is a factor of continual improvement through actionable intelligence and on the fly split testing that reveals what is working and what is not. This way, Genius Monkey can make the necessary adjustments to achieve the highest results.
Utilizing this advanced technology, Genius Monkey can determine how many viewers watch a particular ad, and for how long. An advertiser is not charged for any view that is not watched for at least 30 full seconds, creating nothing but effective advertising. All of the views that do drop off early are virtually free exposure to potential future customers. This creates a "no lose" situation for the advertiser.
Jeremy Hudgens of Genius Monkey said, "Vague demographics are a thing of the past. Advertisers used to run television commercials, having no idea of who would see them and whether or not they actually watched them through. We can determine who will be watching the ad, how long they watched it, and whether or not they responded by clicking through to the customer's website. Not only is the pricing incredibly reasonable, advertisers get more bang for their buck than ever before."