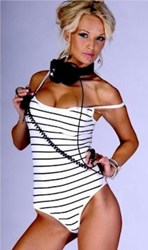 Watch out America, DJane Sexation is coming your way. She will blow away your special events!
Washington, DC (PRWEB) July 25, 2013
Mark Sonder, CSEP and Chief Entertainment Officer at the award winning event and entertainment talent agency Mark Sonder Productions is proud to announce the representation of Playboy's Official DJ Worldwide Tour 2013 featuring DJane Sexation performing European Dance Club Music and House Music.
From Spain and Portugal, to Croatia, Romania, Cyprus and even Israel, this talented DJane is workin' it! She has appeared in DJ booths and magazine covers around the world.
Music fans are drawn to DJ Sexation's magnetic stage presence and versatility to rock dance floors worldwide with her eclectic fusion of playing uplifting melodic "house music" as well as hot European Dance Club music. DJ Sexation is well known for her energy, passion, harmonic mixing skills, and unique feel for taking her listeners on a musical journey.
Her journey this summer takes her around Europe.
July 24 Dux Sanxenxo Sanxenxo, Spain
July 25 DUX CORUÑA Corunna, Spain
July 27 KAXACA CLUB Montijo, Portugal
July 28 Kadoc Portimao, Portugal
July 31 Urban Beach Lisboa, Portugal
August 02 F - Caffe Split, Croatia
August 03 Disco Tineretului Costinesti, Romania
August 07 Lyo Club Bucharest, Romania
August 08 Mandala Beach Mojacar, Spain
August 09 Spies Secret Club Costa Da Caparica, Portugal
August 10 Cyprus Sensation Beach Party Deryneia, Cyprus
August 11 Soho Club Ayia Napa, Cyprus
August 12 Clara Tel Aviv Tel Aviv, Israel
August 13 Pool Party At DUX Sanxenxo, Spain
August 14 Andromeda Vila Real, Portugal
August 15 Pagode Club (03 A.m.) Moncao, Portugal
August 15 Boat Party ( Dux ) at 22h Corunna, Spain
August 16 ICE CLUB Viseu, Portugal
August 17 Festas da Cidade Boticas, Portugal
August 18 Kadoc Albufeira, Portugal
August 20 Lagars Amares, Portugal
August 21 Lyo Club Bucharest, Romania
August 23 Kiay Pombal, Portugal
September 09 IBIZA - JAG Beach Club Ibiza, Spain
DJ Sexation is available for performances through Mark Sonder Productions.
Mark Sonder Productions, Inc. is an award winning entertainment agency in special events, meetings, conventions, trade shows, expositions, concert and casino facilities worldwide as seen in The Boston Globe; The San Francisco Chronicle; The Miami-Herald; United Press International; as well as on FOX and CBS Money Watch.
The talent agency enjoys both exclusive and non-exclusive relationships with headliners, musicians, comedians, theatrical productions and lecturers. Talent Buying: The company's 28 years of contracting has given the firm the knowledge and experience to represent clients and end users in a very strong position.
Mark Sonder Productions is a privately held company and has been proudly delivering excellent customer service to the U.S.A. and abroad since 1985.