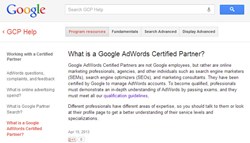 The results speak for themselves: our company has seen tremendous growth over the last few months and the team is expected to grow significantly to meet demand, added Mr. Paquet. We have big plans and big ambitions for the future.
Sherbrooke, QC (PRWEB) July 22, 2013
Ludis Media, a Sherbrooke company specialized in web strategy and SEO, continues to expand by becoming Google AdWords Certified Partner, a certification that confirms his status of true leader in its field in the Eastern Townships. Being the only Google Certified Partner company in the region with more than one certified specialist - with 4 - Ludis Media is clearly positioned as a leader in its area.
By granting this certification, Google recognizes the expertise and the leadership of Ludis Media that makes the enterprise a reference in web strategy. As described by Google, "Google AdWords Certified Partners are […] online marketing professionals, agencies, and other individuals such as search engine marketers (SEMs), search engine optimizers (SEOs), and marketing consultants".
"The partnership with Google will consolidate our credibility as a company working on the Internet, told Alexandre Paquet, president of Ludis Media. Google recognizes, with this certification, that we have the skills to create and operate AdWords accounts, the Google online advertising and pay-per-click (PPC) system."
Ludis Media, founded in 2009, offers complete web strategies to companies wishing to increase their visibility on Internet and to establish their presence in their market, whether at the national, international or local. The Ludis Media offer includes especially SEO and consultation services.
"The results speak for themselves: our company has seen tremendous growth over the last few months and the team is expected to grow significantly to meet demand, added Mr. Paquet. We have big plans and big ambitions for the future."