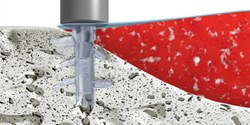 With Sonic Welding, dentists can improve the chances of growing bone for implants - Dr. J Penchas
Houston, Texas (PRWEB) July 20, 2013
Midtown Dentistry, a premier dental office in Houston, Texas is one of the leaders in Dental Implants.
Founder Dr. Jonathan Penchas has been voted Top Houston Dentist multiple times by numerous publications.
More people electing to have dental implants replace their broken or lost teeth. In many cases, the bone in the area of the missing tooth has been damaged by trauma or infection. This means there is not enough bone for a stable post/ Dental Implant.
Bone Grafting is the art of adding and growing the missing bone, so a Dental Implant can be placed and a replacement tooth made. The bone material is usually placed in a soft state and the body replaces it with new bone over a period of several months.
One of the problems with bone grafting has been the need for a complicated way to secure the new bone to the jaw. The new bone is usually secured in place with metal screws or metal foils. After the bone has healed, a second surgery is needed to remove these metal parts.
Midtown Dentistry has now added a new Sonic Weld™ device in our surgical suite.
This device allows the doctor to cold weld a barrier to the existing bone. the barrier is a material that makes a pocket where bone is missing. It is filled with bone graft material and allows for new bone to grow in a safe manner.
The advantage over previous methods is that this barrier is a hard polymer sheet, unlike the previous soft materials. The hard polymer protects the new bone from any destructive pressure.
Another advantage is the fact that this material is organic and resorbs. Previous barriers had to be removed after a few months, mandating a second surgery.
With this new option, Midtown Dentistry continues to be a pioneer and leader in dentistry.