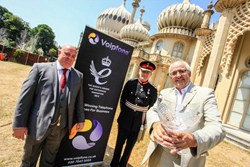 It's a real honour and privilege to be recognised by Her Majesty the Queen, says Voipfone's Founder & Technical Lee Rose who lives in woodchurch Kent.
(PRWEB UK) 19 July 2013
Voipfone a pioneering telephony company that uses the internet to send and receive telephone calls, has won a prestigious Queen's Award for Enterprise - the UK's highest accolade for business success – and celebrated it with a ceremony at the Royal Pavilion.
The award, in the Innovation category, is the latest in a long line of recognition for the ground-breaking company that was created by its joint owners, Colin Duffy from Brighton, Sussex and Lee Rose from Woodchurch, Kent.
iNet Telecoms Ltd was founded in 2004 to develop modern Telephone Services using what was at the time a very new technology called VoIP (Voice over Internet Protocol) This new service became known as Voipfone.
Voipfone is a fast growing, profitable and successful company which, since 2012, has won virtually every award open to a telephone company - including one that has never been given before to any telephone company - the Institute of Customer Services, Customer Focus Award.
This is in recognition not only of Voipfone's outstanding services, but more importantly how they put the customer at the very centre of everything they do and, perhaps because of this, they are named the number 1 VoIP provider in the UK by the independent Review Centre.
Voipfone develop all their services in-house, writing their own software too; they invest 12% of gross revenue in original Research and Development which means they create new and customised services which surpass their competitors.
Today, Voipfone is still growing very fast both in people, revenue and profit and is one of the most successful company in the industry. They are therefore fully deserving of the most prestigious award for UK business – the Queens Award for Enterprise; Innovation.
Damian Green, Minister of State, Home Office & Ministry of Justice said "Many congratulations to Voipfone on this tremendous award. It is always good to see local companies at the forefront of technology, taking on all-comers and matching them. I am sure the company will go from strength to strength and make the most of the opportunities available."
About Voipfone
Voipfone is an Internet telephone service provided by iNet Telecoms Ltd, which was founded in 2004 by Internet entrepreneur Lee Rose from Woodchurch Kent.
The company is now jointly owned by Lee and his business partner and current CEO Colin Duffy from Brighton East Sussex and was formed to develop the latest voice over Internet technologies.
It offers web-based, self-service and low cost, high-quality services that have more advanced features than the old public switched telephone network (PSTN).
VoIP stands for Voice over Internet Protocol and is a way of sending telephone calls over the Internet and other networks.
It's a new technology, which is transforming telecommunications globally. Until VoIP was invented, telecommunications was the province of governments and large corporations, but since the turn of the millennium, it's being used by a few innovative companies to provide new and unique telephone services and is changing the way the industry is structured.

Voipfone is a virtual company with no main office. It employs 25 staff - up from seven in 2008 - and turned over £2.3m last year, making a profit of £400,000.
As a winner of The Queen's Award for Enterprise the directors are invited to a special reception at Buckingham Palace.
They can also use The Queen's Award Emblem in advertising, marketing and on packaging for five years as a symbol of their quality and success. The awards are made annually by HM The Queen, and are only given for the highest levels of excellence demonstrated in each award category.
Twitter https://twitter.com/Voipfone
Facebook http://www.facebook.com/voipfone
Google+ http://plus.google.com/+voipfone