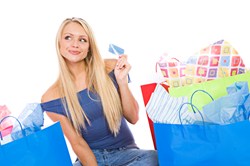 Montreal, Canada (PRWEB) July 23, 2013
If you're mesmerized by those red "50% off" signs, bedazzled by a "don't pay for 30 days" deal, and hypnotized by an offer for a new, pre-approved credit card, researchers at Queendom.com advise caution. Their recent study using their Shopaholic Test indicates that people who own several credit cards may be at a greater risk of becoming shopaholics.
"When I shop," said character Rebecca Bloomberg in Confessions of a Shopaholic, "The world gets better, and the world is better, but then it's not, and I need to do it again." For a lot of people, retail therapy is an outlet. The smell and sight of new merchandise can offer a well-needed distraction, whisk away worries, and offer a bit of an ego boost when that new outfit fits just right. Unfortunately, those good feelings are often short-lived.
"The high a shopaholic gets from buying things is only temporary – and once it wears off and the reality of how much you spent sets in, the downfall can be terrible," explains Dr. Ilona Jerabek, president of PsychTests. "Unfortunately, in order to get out of an emotional rut, many shopaholics will shop again to get that high back. It's a vicious circle, emotionally and financially."
Aside from the dangers of retail therapy, Queendom's research also reveals that owning a lot of credit cards simply adds fuel to the fire. Queendom researchers analyzed 4,725 people who own anywhere from one to more than three credits cards, using their Shopaholic Test. Their statistics indicate that as the number of credit cards owned increases, the greater the risk for shopaholism and financial disaster. When comparing individuals who own one credit card vs. those with more than three, Queendom's research reveals that:

Those who own more than three credit cards are less skilled at money management (score of 52 vs. 65 for those with one card, on a scale from 0 to 100).
They are more likely to use shopping as a means of coping with stress (score of 72 vs. 59 for those with one card).
They are less self-controlled and self-disciplined, and more impulsive (score of 50 vs. 62 for those with one card).
They are more likely to consider being fashion-forward a priority (score of 57 vs. 50 for those with one card).
They are more likely to get an adrenaline rush from shopping (score of 63 vs. 51 for those with one card).
They are at a higher risk of becoming addicted to shopping (score of 54 vs. 42 for those with one card).
Queendom's research also reveals that 79% of people who have more than three credit cards have already been told at least once by friends and family that they need to cut down their shopping. While only 3% have sought help from a professional about a shopping problem, another 15% are seriously considering it.
"Like any addiction, admitting that you have a problem is the hardest step," says Dr. Ilona Jerabek. "Unfortunately, of those who have more than three credit cards and who score high on our shopaholism scale, 15% don't think they have a problem – but they clearly do. Don't wait until after the credit card bills come in, the creditors start nagging, utilities get disconnected and relationships are broken to finally wake up. If you're spending more money than you have and most of it goes to shopping for things other than basic needs, you need to step back and give yourself a reality check - before you ruin your credit and your life."
"Chances are that the shopping problem is covering another underlying issue that a person is not willing to face or deal with. Shopping can be an escape from a stressful life or unhappy relationship. It could stem from a desire to feel a greater sense of self-worth – if you have the latest fashions, you'll fit in, get compliments, or gain respect. Until a person figures out why they really shop – the reward it offers them – they will have a hard time breaking the habit," concludes Dr. Jerabek.
Here are some tips from Queendom to keep shopping habits under control – with one caveat: those who are already in serious debt because of a shopping addiction need to seek out the guidance of a financial adviser and a therapist.
Get rid of the plastic. Credit cards and debit cards make it too easy to spend money - all it takes is a swipe and the money's gone, which lands you with another bill you can't afford. If you go shopping, bring only cash. This way, you'll only spend what is in your wallet, minimizing the risk of debts you can't afford. Or, if you can't seem to bring yourself to slice up your plastic friends, fill a plastic bag with water, stick your credit card in it and throw it in the freezer - you'll literally be freezing your assets.
Resist the immediate impulse. If you find something you like, don't purchase it on the spot. Leave the store and take a few days to really think about whether or not you really need it – making a pros and cons list would be even better. If after a few days you still must have it, you can always go back. Here's an additional tip: If you've picked up a piece of merchandise that you really want but feel a nagging doubt at the back of your mind (even a small one), listen to that inner voice. It's warning you that you'll end up regretting your purchase later on. Oftentimes, buyer's remorse is rooted in reality.
Treat yourself when you deserve it. Rather than shopping just to shop, use it as an incentive. In other words, reward yourself for your accomplishments. For example, if you're aiming to lose weight, make that your goal and buy yourself a new skirt or pair of pants when you lose the first ten pounds. Just don't exceed one treat per month. Plan for serious achievements, not silly ones.
Get a hobby. Instead of spending all your time shopping, occupy yourself with another interest. It doesn't matter if it's golf, gardening or go-carting - if your time is spent elsewhere, your mind will be too. You never know, you might find something you enjoy doing even more!
Strength in numbers. Try shopping with a friend or family member - preferably one who doesn't shop as much as you, or maybe even someone who hates shopping. If you find your fingers itching to spend money, ask for their view. This decreases the impulsive shopping tendency because you'll be getting an unbiased opinion.
Be wary of online shopping. Sure, you can find unbelievable deals and comparison shop. You can check product reviews and gain insight that will help you make informed decisions. However, you need to focus on the original item and not get carried by all the additional tempting offers thrown your way. Don't forget that most sites that offer such incredible bargains are smartly designed with a built-in sense of urgency. You may be told that items in your basket are reserved only for 15 minutes or so; that an offer is limited and that millions of shoppers waiting to snag them. These are well-known sales tactics that lead to impulse shopping. And impulse control is the Achilles' heel of shopaholics.
Queendom's Shopaholic Test can be found at http://www.queendom.com/tests/take_test.php?idRegTest=726.
About Queendom.com:
Queendom.com is a subsidiary of PsychTests AIM Inc. Queendom.com is a site that creates an interactive venue for self-exploration with a healthy dose of fun. The site offers a full range of professional-quality, scientifically-validated psychological assessments that empower people to grow and reach their real potential through insightful feedback and detailed, custom-tailored analysis.
About PsychTests AIM Inc:
PsychTests AIM Inc. originally appeared on the internet scene in 1996. Since its inception, it has become a pre-eminent provider of psychological assessment products and services to human resource personnel, therapists, academics, researchers and a host of other professionals around the world. PsychTests AIM Inc. staff is comprised of a dedicated team of psychologists, test developers, researchers, statisticians, writers, and artificial intelligence experts. The company's research division, Plumeus Inc., is supported in part by the Research and Development Tax Credit awarded by Industry Canada.