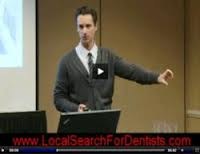 "So many patients now go online to research dentists in their area before scheduling an appointment, and online patient reviews have a big impact on that decision,"
Chicago IL (PRWEB) July 19, 2013
With an increasing amount of patients turning to online resources to research potential dental care providers, it's becoming essential for dentists and practices to not only increase their online visibility, but also ensure that their reputation in good standing. A new program launched by LocalSearchForDentists.com is helping dental professionals across the nation establish more credibility online and increase their number of patients because of it.
"So many patients now go online to research dentists in their area before scheduling an appointment, and online patient reviews have a big impact on that decision," said Graig Presti, CEO of Local Search for Dentists. "Sadly, we've found that just one false negative review from a disgruntled patient or former employee can be detrimental to dentists' credibility online. This program helps dentists create an online reputation that accurately portrays their level of care."
Graig Presti's team who specializes in marketing for dental offices uses a combination of press releases, SEO, and strategies to accumulate authentic Google patient reviews in this new reputation management program. The program is designed to work both re-actively and proactively meaning it's effective for both those who need to repair a tarnished reputation, or those who want to build credibility to lessen the impact of negative reviews in the future.
Unlike other online marketing companies, LocalSearchForDentists.com doesn't fabricate reviews to inflate reputation. Rather, they focus on building mentions and authentic reviews of the dentist or practice to diminish the visibility of harmful reviews.
Reviews of this reputation management have been outstanding, with many dentists and dental practices seeing drastic improvement after suffering from detrimental negative reviews.
"I had an angry patient go on to PissedConsumer.com and leave a nasty review, but LocalSearchForDentists.com removed it page 1, which was really a game changer," said Dr. Larry Stroud, a client of LocalSearchForDentists.com. "Bottom line is that no one knows the internet like LocalSearchforDentists.com. I've been using this company for 3 years now and listen to everything they have to say because it works."
In addition to their reputation management services, LocalSearchForDentists.com also offer others resources for dentists wanting to improve their marketing and grow their practice. They recently launched a dental marketing radio program that is free and available live or via podcast.
For more information about LocalSearchForDentists.com and their reputation marketing for dental practices, please visit http://www.LocalSearchforDentists.com and http://www.youtube.com/watch?v=N4C_uo5fP5U