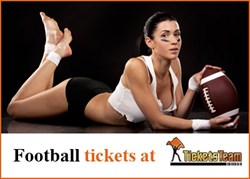 TicketsTeam.com, an online broker of sports, concert, and theater tickets, has announced the addition of New York Giants tickets for 2013 season, including preseason games.
New York, NY (PRWEB) July 20, 2013
One of the most popular and successful football teams, the New York Giants are already preparing for what is to be a battle to the finish. New York Giants tickets are available for all home and away games during the full 2013 season that lies ahead.
Based in East Rutherford, New Jersey, the Giants represent the New York metropolitan area and are part of the East Division of the National Football Conference. The NFL team, now training at the Timex Performance Center at New Jersey's Meadowlands Sports Complex, is gearing up to be one of the most formidable forces of the football league. Having won the Super Bowl four times, the last one being in 2011, the upcoming season is bringing excitement and anticipation to fans across the area.
Full schedule for the New York Giants 2013 season home games at MetLife Stadium:
September 15: New York Giants vs. Denver Broncos;
October 6: New York Giants vs. Philadelphia Eagles;
October 21: New York Giants vs. Minnesota Vikings;
November 10: New York Giants vs. Oakland Raiders;
November 17: New York Giants vs. Green Bay Packers;
November 24: New York Giants vs. Dallas Cowboys;
December 15: New York Giants vs. Seattle Seahawks;
December 29: New York Giants vs. Washington Redskins.
With tickets in such high demand, fans should not wait long if they want season tickets. The opportunity provided by TicketsTeam.com is something fans do not see often. As with all games, the sooner the better; tickets are expected to sell out fast. The buying frenzy is expected to ramp up quickly until the last ticket is sold, which may not be long.
Fans of Big Blue are already speculating as to whether the team will make the Super Bowl again. The team continues to be competitive ahead of the season and there is much anticipation, so it is very likely that season tickets will sell out before the first game. As with all sports, the website makes it extremely easy to purchase season tickets without the hassles of doing so offline. Tickets for the baseball season and prior hockey and basketball seasons were swift sellers.
With the full 2013 season ahead, there are many dates and stadiums booked across the country. The New York Giants, by all media accounts, appear ready to start. To take advantage of what the company has to offer in terms of easy access to tickets at reasonable prices, loyal fans go to http://www.ticketsteam.com for booking tickets before it's too late.