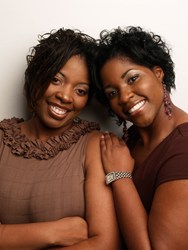 We are excited about the opportunity to be a new and compelling voice in the city of Charlotte. As native Charlotteans, it is a blessing to be welcomed in your home town. We look forward to our partnership with WGIV 103.3.
Charlotte, NC (PRWEB) July 22, 2013
Queen City's radio station 103.3 WGIV, The Soul of Charlotte adds a new 30 minute radio show launching July 24, 2013 called "How U Living?" (http://www.howuliving.info) airing every Wednesday at 9am to discuss psychological aspects of the state of mind. "How U Living?" will be hosted by quirky and witty radio personalities Dr. Carol Holmes and Dr. Lynn Holmes, sisters and co-founders of The Holmes Group, LLC. The focus of the show is to link an individual's thought life with the condition of their life.
The Holmes Group states, "The linkage between thought life and life condition is rooted in the idea that states that what a man/woman thinks, ultimately shapes the life in which he/she lives. If someone thinks they are not valuable, their life will show they do not see themselves as valuable."
The Soul of Charlotte, 103.3 WGIV is anticipating great responses from listeners about adding "How U Living?" to the stations line up of shows. The "How U Living" show can also be heard by visiting http://www.wgivcharlotte.com/ to stream live or by using the radio App TuneIn. 103.3 WGIV trusts that listeners will appreciate the show.
The "How U Living?" show will provide listeners with an opportunity to share the hot mess that's seen on a daily basis, and produced to never end without giving listeners a moment of release, according to the Holmes sisters.
Both Dr. Holmes, on each show will present their hypothesis on the five aspects of psychology: physical, spiritual, social, emotional, and intellectual; and address the multiple layers of those five aspects through music, laughter, hot topics for open conversation, and social media. In addition to presenting other aspects of life that impact relationships and health including how the reactions of those aspects affect the mind and body.
For more info about Drs. Carol and Lynn Holmes visit http://clh074.wix.com/theholmesgroup.
For Media and Interviews, please contact Lakita Backum with LaSaKB Consulting, LLC Public Relations & Marketing with Artisanship at 864.905.4380 or by email at LakitaBackum(at)lasakb(dot)com.
About Dr. Carol Holmes
Dr. Carol Holmes is a media personality of Charlotte, NC with a PhD in International Psychology, Masters in Industrial and Organizational Psychology and a BS degree in Biology. She is the co-founder of the Holmes Group, LLC that was birthed out of the desire of her and her sister Lynn Holmes, to develop and train new and existing leaders within the Psychological Marketplace. This has afforded her the opportunity to speak to local colleges and organizations to provide an understanding of the psychology of their personality and how the psychology of personality fosters roles as leaders. She also acts as an adjunct professor at a local university where she teaches Psychology.
About Dr. Lynn Holmes
Dr. Lynn L. Holmes is a radio personality of Charlotte, NC. She is the co-founder of The Holmes Group, LLC, which she started with her sister to develop and coach, new and existing leaders in the Psychological Marketplace. Dr. L. Holmes has a PhD in International Psychology, Masters in Public Health and BS in Mathematics and Physics. She is also a certified Group Fitness Instructor, which afforded her the opportunity to develop and implement health initiatives in local communities. In addition, for the past 11 years Dr. L Holmes has taught Mathematics on a college level. In this role she works as a counselor, facilitator, and motivator.
About the Holmes Group
The Holmes Group mission is to target communities locally, nationally or globally by coaching leaders with modern and innovative techniques to nurture individuals suffering mentally from thoughts that negatively impact self-worth. Committing to their active duties in communities.