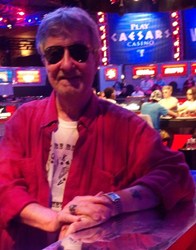 We're going to ask our fans to predict the winner, and the first correct prediction will win $100 in Texas Poker Store merchandise.
College Station, Texas (PRWEB) July 23, 2013
Jim Paris, owner of the Texas Poker Store, has just returned from an exciting trip to Vegas where he caught the countdown to the November Nine in person.
"I've been writing about these guys, and following their careers for ages," Paris said, "so it was quite an experience to be mingling among some of my 'poker heroes.'" A lot of the better known players got knocked out early, which wasn't too good for them. But it worked out pretty well for me. I had the opportunity to spend some time with a couple of my favorite players, Phil Hellmuth and Jesse Sylvia, who were both a delight to talk to. Both are true gentlemen of the sport of poker."
"It was incredibly exhilarating to be there, especially when it got down to 10 players and the poker tables were merged into one feature table," Paris continued. "I was fortunate enough to land a seat at the rail, and when the final nine were confirmed, there was so much cheering and clapping it felt like an earthquake had shaken the room."
Now that Paris has experienced the WSOP first-hand, he's ready to add some sweetening to the pot for his faithful fans and customers. Last month, TPS announced a summer discount on every product in stock, and, to celebrate the 44th annual World Series of Poker, an additional 10% discount on any of their folding poker tables in stock to the first nine players who claimed their table before this year's final nine WSOP players were confirmed.
"Well, the November Nine have been confirmed, so it's time to up the ante," said Paris. "Our customers have responded well to our discounted prices, but I want to engage them in a contest to predict the winner of the epic poker battle that will take place on November 5 and 6 at the Final Table at the Rio."
TPS will post the November Nine Final Table contest on its Facebook page and continue to blog about it until the big event. "We're going to ask our fans to predict the winner, and the first correct prediction will win $100 in Texas Poker Store merchandise," Paris stated. "In addition, the first person who correctly predicts the winner and the runner-up, will win $200 worth of poker-related supplies from our online store."
The following are the November Nine, their chip counts and their designated seat numbers:
Seat 1: Sylvain Loosli – 19,600,000
Seat 2: Michiel Brummelhuis – 11,275,000
Seat 3: Mark Newhouse – 7,350,000
Seat 4: Ryan Riess – 25,875,000
Seat 5: Amir Lehavot – 29,700,000
Seat 6: Marc-Etienne McLaughlin – 26,525,000
Seat 7: JC Tran – 38,000,000
Seat 8: David Benefield – 6,375,000
Seat 9: Jay Farber – 25,975,000
"Just go to our Facebook page to make your picks," said Paris. "And while you're there, don't forget to enter our photo contest, too. We've been running a contest for the best poker face or poker-related photo since June, and we recently announced our first winner. A local Texan, Dr. Matt Greene, was the happy recipient of a set of poker chips in a beautiful mahogany case for his entry entitled, 'Two Pairs.' Just look for the big tab that says 'Photo Contest' and click it to enter."
"We love poker, we love to run contests and we love to hand out prizes," Paris stated. "We just want all our loyal fans to get in on the action."
About Texas Poker Store
Located in College Station - Bryan, Texas, the Texas Poker Store is a fully stocked online poker store that offers 100 percent secured shopping and features hundreds of poker supplies. The Texas Poker Store was founded by Poker Lovers and Die Hard Players, Jim and Lynn Paris. We live in Texas, we play Texas Hold 'em and we welcome you to visit our store. You can find the Texas Poker Store at http://www.texaspokerstore.com, visit their blog at http://www.texaspokerstoreblog.com, and follow them on Twitter, Facebook and on Pinterest.
Jim Paris
Chief Dealer
Texas Poker Store
302 N. Bryan Street
Bryan, Texas 77840
1-866-213-1594