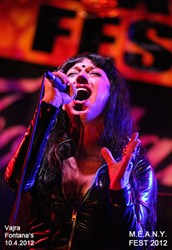 But Vajra needs your help, so go to http://battle.rockstaruproar.com/u/Vajra and vote for Vajra
New York, NY (PRWEB) July 23, 2013
NYC based, progressive rock and East Indian fused band, Vajra, is in the running to share the stage at the Rockstar Uproar Festival in Saratoga, NY and they need your support. The band is competing with a host of other bands for a slot on tour with Alice in Chains, Janes Addiction, Coheed and Cambria and others. "I grew up Upstate [New York], listening to AIC and Jane's Addiction. It would be incredible to share the stage with those guys," says Vajra creator and vocalist, Annamaria Pinna.
Based on Vajra's buzz rating, they are in the top 6 for the Saratoga show. The top buzz rated artists for each tour stop will be eligible to win a slot to play live at that particular venue. Voting ends on July 28.
But Vajra needs your help, so go to http://battle.rockstaruproar.com/u/Vajra and vote for Vajra, listen to some of their tunes, and don't be afraid to show your support in the comment section.
Vajra's music is hauntingly dark and hypnotic weaving Eastern Indian themes with melodic, progressive rock creating foreboding and mysterious lullabies. Sylvia Massy (Tool, System of A Down, Prince, Johnny Cash) co-produced the vocals and mixed. Tom Baker (NIN, Foo Fighters, Ministry, Prince) mastered.
The band is quickly generating a buzz after selling-out their first show in November, 2011 (at The Bowery Electric in NYC). Virgin America selected Vajra's single "Erode The Will" for their In-Flight Entertainment Series in December, 2011, and the single was also selected for the Red Gorilla SXSW 2012 Compilation and the Go-Girls Music Fest 2012 Compilation. The Band also was selected as a Supercuts Rock The Cut Ambassador. Vajra's music is played at over 200 terrestrial and internet radio stations worldwide. The band has played to sold-out audiences at: The Bowery Ballroom (NYC), The Mercury Lounge (NYC), The Bowery Electric (NYC) and also performed 2 shows at The Red Gorilla Music Festival and the Texas Rockfest down at SXSW 2012 and completed a successful West Coast tour in Summer 2012, performing at Sylvia Massy's 4&20 Blackbird Music Festival, The Bottom of the Hill in San Francisco and The Roxy in Los Angeles. Vajra also just signed licensing deals with Viacom, The Discovery Network, Showtime and Bravo.
For more about Vajra, you can go to their Facebook page: http://www.facebook.com/vajratemple.